Valentine's Day is all about showing loved ones how much you care with… sugar! This morning I had the opportunity to share 4 healthier Valentine's Day treats for kids on our local news, TMJ4. These treats would be perfect for a class party or afterschool snack.
What are some of your favorite Valentine's Day treats? Leave them in the comments below!
Strawberry Sweetheart Smoothies
Ingredients:
2 cups frozen strawberries
1 fresh banana, peeled
1 cup milk (I prefer almond milk in this one)
½ cup low-sugar apple juice
1 cup Ice
Preparation:
Place all ingredients in a blender and blend until smooth. Divide between 2 glasses and enjoy!
Be Mine Trail Mix
Ingredients:
1 cup almonds
1 cup cashews
1 cup dried cranberries
1 cup dried cherries
1 cup granola or cereal of choice
1 cup pretzels
1 cup Valentine's Day M&Ms
Preparation:
Combine all ingredients in a large bowl and mix by hand. Divide into small bowls or Valentine treat boxes and enjoy!
White Chocolate Strawberry Muffins
Ingredients:
2 ½ cups old fashioned oats
2 whole eggs
3 brown, ripe bananas
1 ½ tsp baking powder
½ tsp baking soda
½ cup white chocolate chips
1 cup chopped strawberries
Preparation:
In a large bowl, combine the oats, eggs, bananas, baking powder and baking soda. Fold in the chocolate chips and chopped strawberries and scoop into 12 muffin tins.
Preheat the oven to 400 degrees F and bake muffins for 18-20 minutes, until golden brown.
Cupid's Taco Cups
Ingredients:
1 can pinto beans, drained and rinsed
1 lime
1 tsp cumin
½ tsp garlic salt
2 cups salsa
1 cup nonfat plain Greek yogurt
1 cup shredded pepper jack cheese
2 red bell peppers, sliced
Red tortilla chips
Preparation:
Pour the rinsed pinto beans into a medium bowl and mash. Add the lime juice, cumin and garlic salt and mix well.
Scoop 2 heaping tablespoons into the bottom of a shallow, clear glass. Top with 2 tbsp. salsa, 1 heaping tbsp. Greek yogurt and 1 heaping tbsp. shredded cheese. Repeat with all glasses. Serve with chopped red bell peppers and red tortilla chips.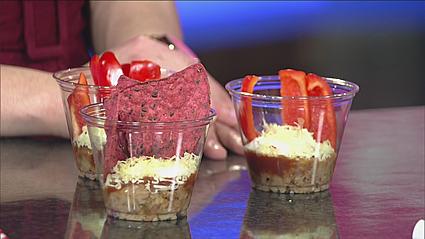 For more Valentine-inspired recipes, check out my Valentine's Day Breakfast roundup and the DDD store!