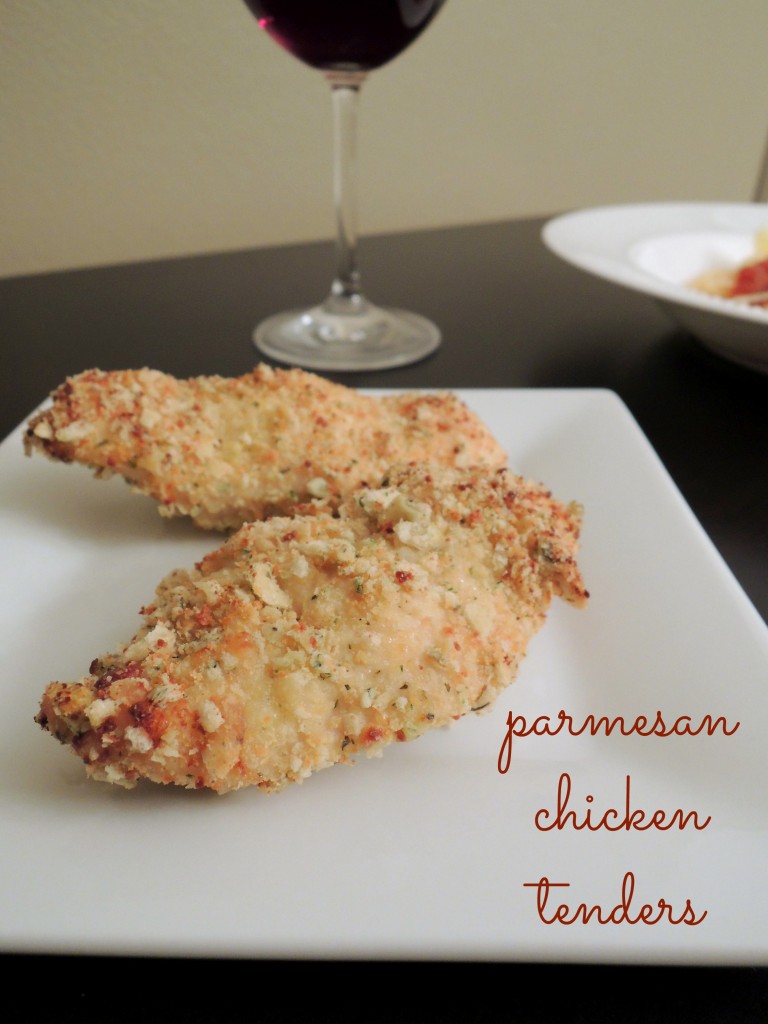 I received free samples of Breton Gluten Free Original with Flax and Breton Gluten Free Herb and Garlic from Dare Foods Incorporated mentioned in this post. By posting this recipe I am entering a recipe contest sponsored by Dare Foods Incorporated and am eligible to win prizes associated with the contest. I was not compensated for my time.
These parmesan chicken tenders are crispy on the outside, juicy on the inside and bursting with garlicky parmesan flavor! They also just happen to be gluten-free! This month members of the Recipe Redux were invited to enter a recipe contest hosted by Breton gluten-free crackers in honor of National Celiac Awareness Month. We were challenged to develop a gluten-free recipe featuring the Original with Flax or Herb and Garlic crackers. When I first started planning my entry, I thought about the foods I would miss most if I went gluten-free. I knew I wanted to feature an Italian dish, because that would really require some creativity. It turns out these Herb and Garlic crackers make a great breading for chicken, and I'm already thinking about other breaded dishes I could make – pork chops, zucchini, eggplant!
Because the crackers are already seasoned, you won't need to add any seasonings or herbs to the breading. Simply crush the crackers, mix in some parmesan and you're halfway there.
To make sure the breading is nice and crispy, bake the chicken tenders directly on the oven rack. I placed a piece of aluminum foil on the rack below them to catch any drippings (shown below). I used this same technique with my Crispy Oven-Fried Cod recipe, and it worked beautifully!
Serve over spaghetti squash, top with your favorite marinara, and enjoy your gluten-free chicken parmesan!
Parmesan Chicken Tenders
2014-05-05 20:03:36
Serves 4
Gluten-free chicken tenders that are crispy on the outside, juicy on the inside and bursting with garlicky parmesan flavor!
Ingredients
¾ cup crushed Breton Gluten Free Herb & Garlic crackers
¼ cup grated parmesan cheese
1 egg + 1 egg white
1 lb. chicken breast, sliced into tender-sized pieces
Instructions
Mix the crushed crackers and parmesan in a shallow dish.
Beat the egg and egg white in another shallow dish.
Working one-by-one, dip the chicken pieces in the egg dip, then roll in the breading to coat.
Preheat the oven to 350 degrees F and position 2 racks on the lowest 2 levels. Place a large piece of aluminum foil on the bottom rack, to catch any drippings. Spray the top rack with cooking spray and place the chicken pieces directly on that rack.
Cook for 30-40 minutes, until the juices run clear. Gently remove the chicken tenders and enjoy!
Diet Deep Dish http://dietdeepdish.com/