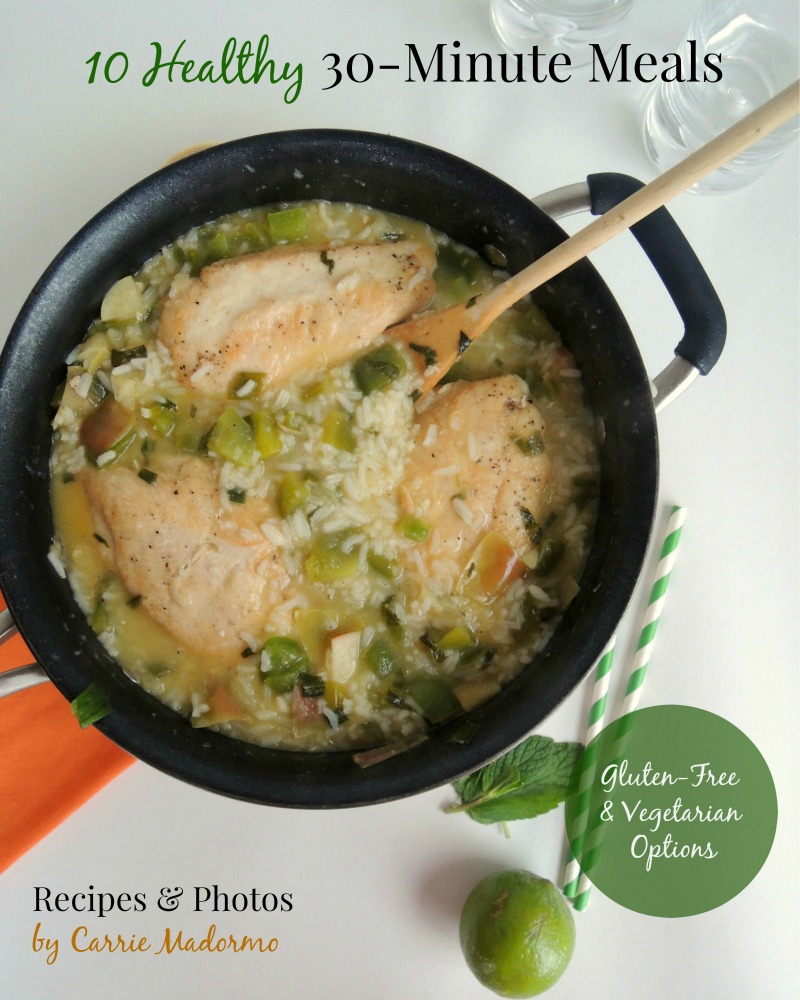 "For is there any practice less selfish, any labor less alienated, any time less wasted, than preparing something delicious and nourishing for people you love?" ― Michael Pollan, Cooked: A Natural History of Transformation
I think it's safe to say we all wish we cooked at home more. It's healthier, cheaper and feels great to sit around the table enjoying what you've lovingly created. So why don't we? No time? Don't know where to start? We have all been there. I recently read an article in Cooking Light that even Michelle Obama has struggled with getting nutritious meals on the table and noticed a huge improvement in her daughters' health when the family started cooking at home just twice per week.
Today I have 2 exciting announcements for you that will make cooking the food you love infinitely easier…
My ebook is officially available today!! In this book, I'm bringing you 10 of my favorite 30-minute meals – they're quick & easy to prepare, use simple ingredients and are family-friendly. I've written every recipe for 2 people, and they can easily be doubled or tripled for a larger family, so they fit any household! And the best part about this book… it's free!
Cooking at home does not have to be intimidating. This ebook and all the recipes on Diet Deep Dish will walk you through the entire cooking process step-by-step, and all products in the Diet Deep Dish store are ready to eat or require no more than 2 ingredients to prepare.
In this video, I'll bring you the second exciting announcement…
And for a limited time, all email subscribers will automatically be entered into store giveaways. First up is whole grain beer bread mix with caramelized onion dip, so be sure to enter your email above. I will announce the winner back here at Diet Deep Dish on Monday, February 23rd and will also announce the next products up for giveaway at that time!
THANK YOU – I know your time is valuable and I truly want to provide you with everything you'll need to make meals you love. If you have any questions or ideas for me, please send me an email at [email protected]. Thanks and good luck in the giveaway!