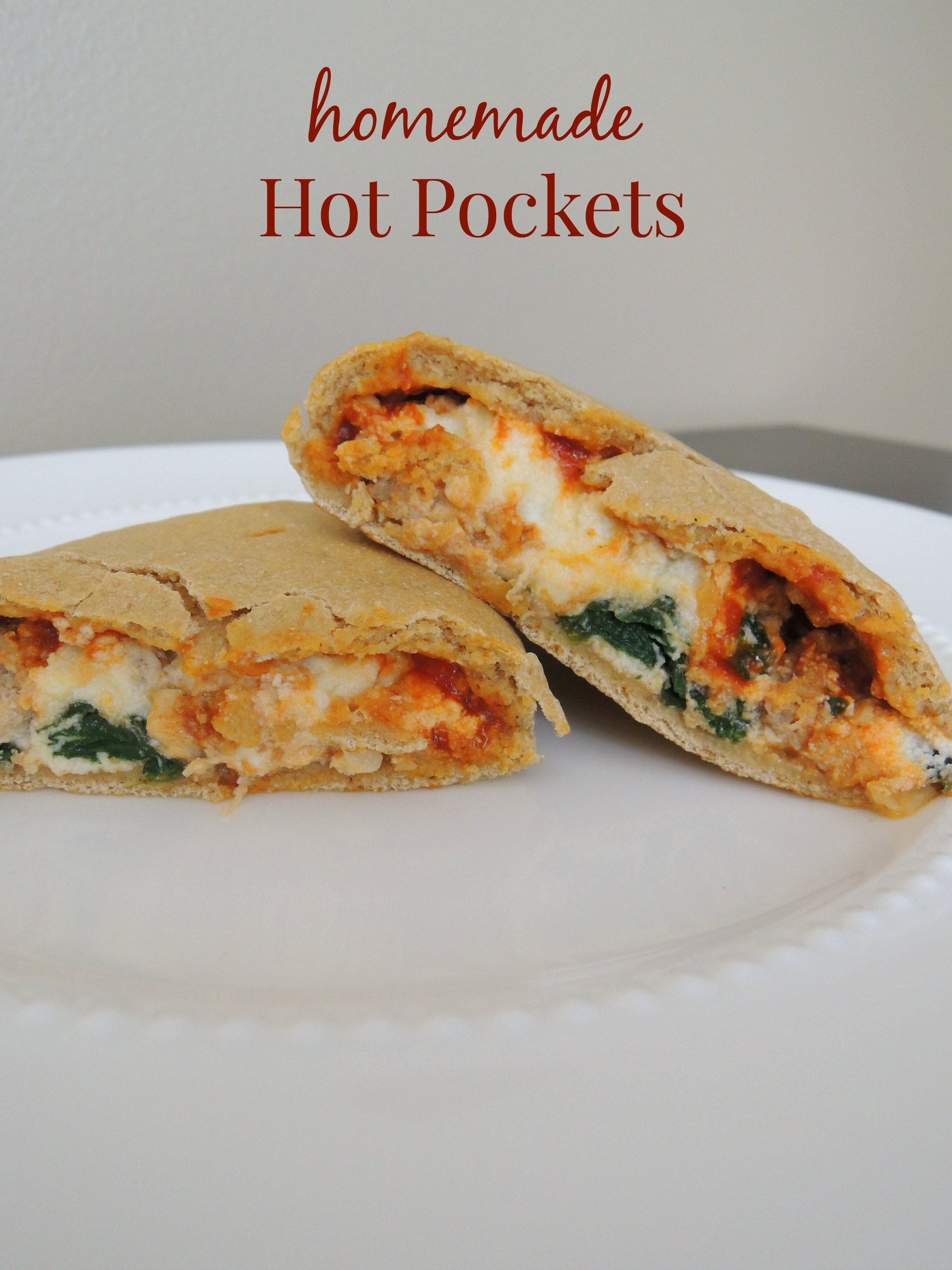 You know that feeling of time just flying by? Like you blinked and all of a sudden you're in the next chapter of your life? Somehow in the last couple weeks we managed to move Charlotte to a twin bed, help her to potty train and register her for preschool. I think I officially need to stop saying, "Well, I just had a baby…"
Now I'm having visions of the two of us walking home from school hand-in-hand talking about her day (she'll always want to do that with me right?) and coming home to the welcoming smell of fresh homemade turkey and ricotta calzones. She'll confide in me, ask me for advice and tell me I'm the best mom ever while we share this perfect little snack… And even if our days don't turn out quite so picturesque, I'll always be able to bribe her to talk to me with a delicious afterschool snack - these homemade hot pockets are easy to whip up and freeze well!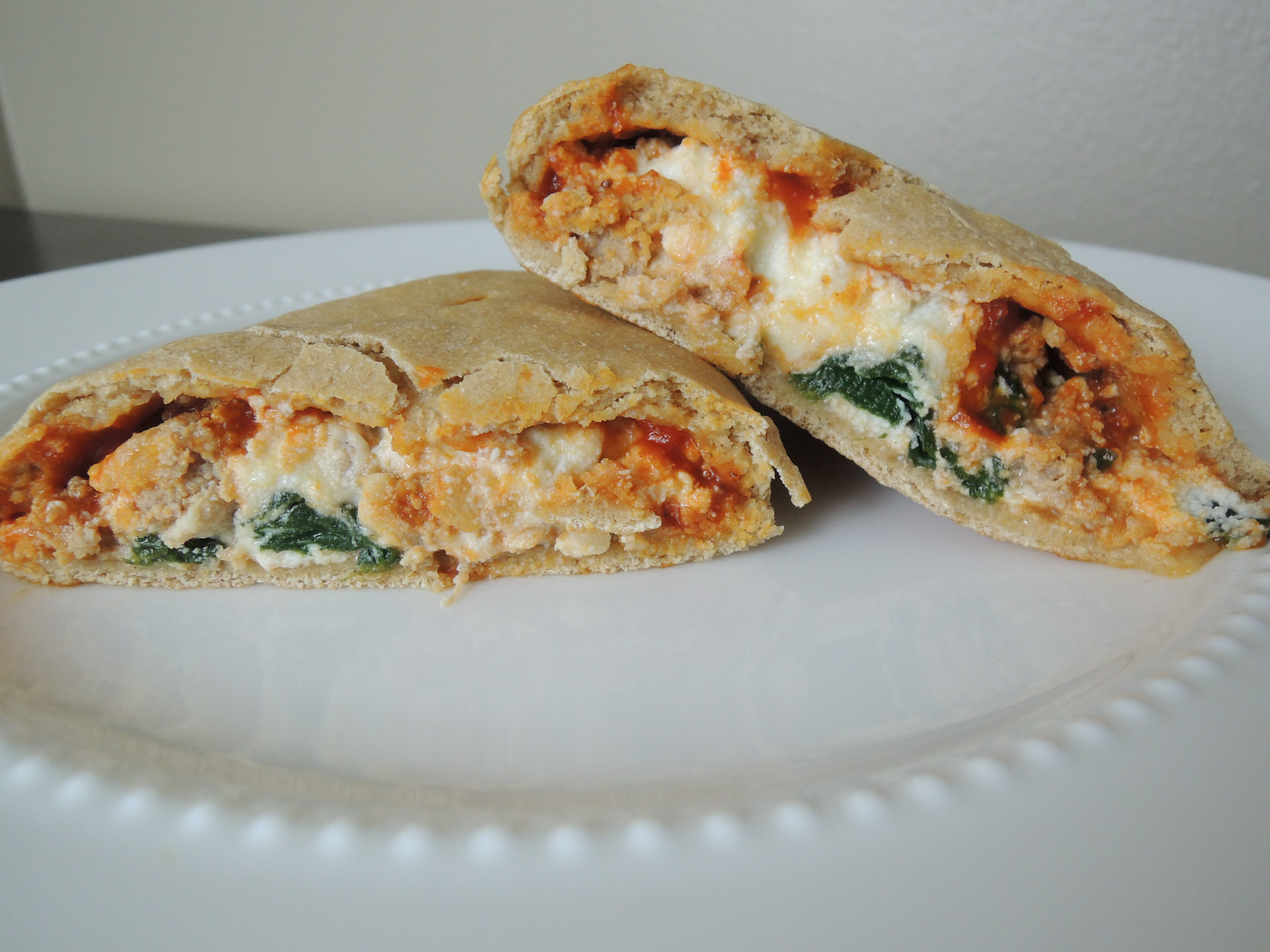 I definitely had the feeling of time flying by today. This morning I had the chance to share some healthy Super Bowl party recipes on FOX6 WakeUp! Much like my last appearance, I have no idea what I said during the segment - eventually I'll be able to watch it. I served bacon cheeseburger dip with fresh veggies, pretzels & tortilla chips and skinny beer cheese soup with pretzel rolls. The perfect comfort food for this snowy day!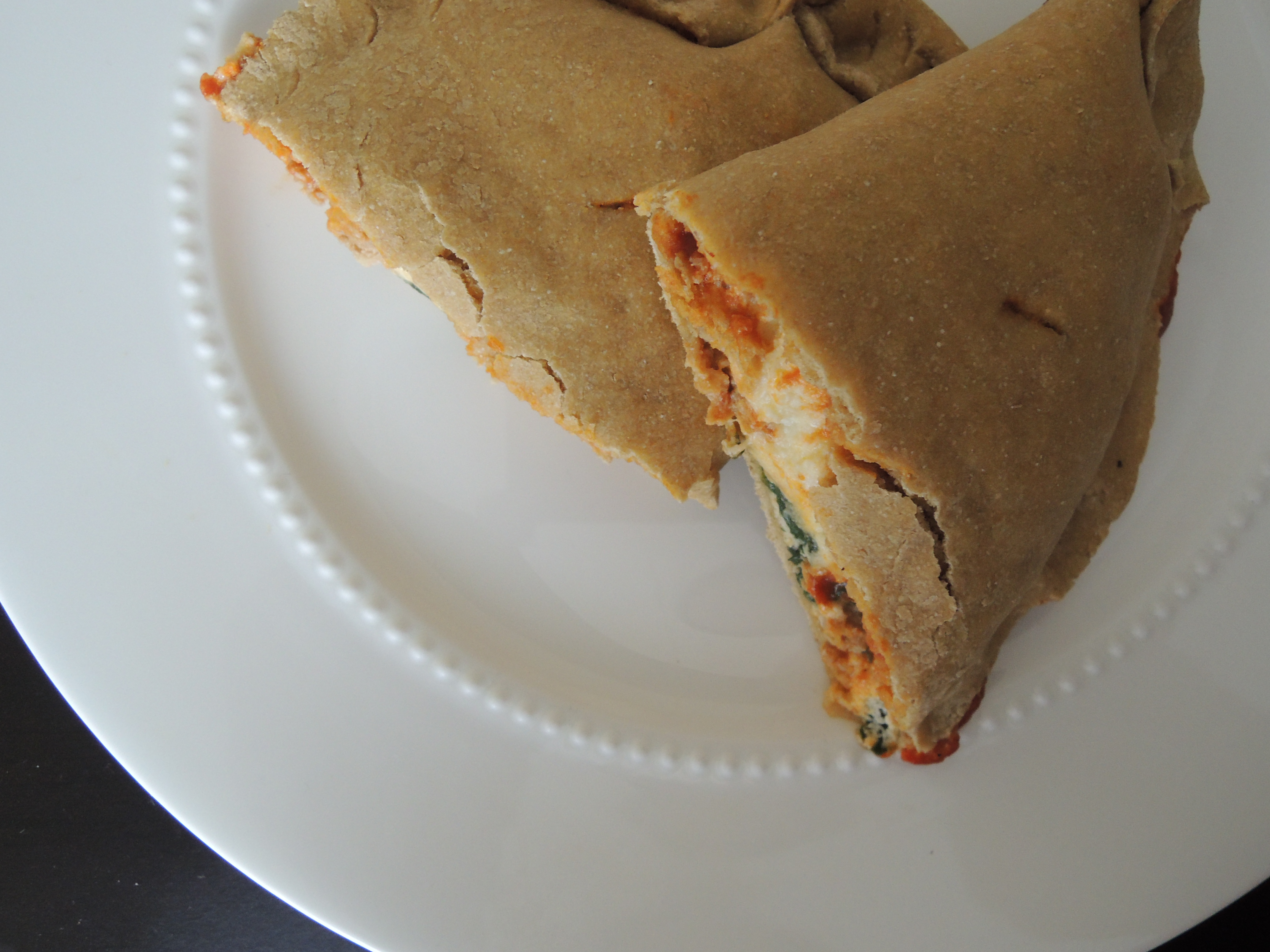 You will love these homemade hot pockets, because they are simple to prepare and are easily customizable to your tastes. I used turkey sausage here, buy you could substitute pork sausage or ground chicken. Using diced tomatoes and marinara seasoning gives these calzones a rich pizza flavor. And by making your own dough, you will fill your home with the MOST intoxicating smell! But if you're short on time, ready-made dough works just as well.
Consider doubling or tripling the recipe to have a fresh and savory dinner ready in your freezer. If freezing, bake as directed and allow to cool completely. Wrap each hot pocket in plastic wrap and place in a large freezer bag. When ready to reheat, allow hot pockets to thaw in the refrigerator for 8-24 hours, then bring to room temperature before baking. Discard plastic wrap and back at 350 degrees F for 15-20 minutes. For more easy freezer meal ideas, check out the DDD store!
Homemade Hot Pockets
2015-02-01 12:07:44
Serves 8
Ingredients
3 3/4 cups white whole wheat flour
1 tsp. salt
2 1/4 tsp. active dry yeast
1 tsp. agave nectar (or sugar)
3 tbsp. extra virgin olive oil
1 lb. uncooked turkey sausage, casing removed
1 tbsp. dried herb seasoning
4 oz. spinach leaves, roughly chopped
1 large egg
4 oz. shredded mozzarella cheese
2 cups ricotta cheese, drained
1 (14.5 oz.) can diced tomatoes
1/4 cup dried marinara seasoning
Instructions
In a large bowl, whisk together flour and salt; set aside. In the bowl of a stand mixer, add yeast and agave and slowly pour in 1/4 cup hot water. Set aside until yeast becomes frothy, about 5 minutes.
Add in 1 cup warm water and 2 tbsp. oil. Add flour mixture and beat on low speed with dough hook until flour is moistened. Cover with a kitchen towel and let rest 20 minutes.
Return bowl to the stand mixer and beat on medium speed until dough is smooth and elastic, about 5 minutes. Mist another large bowl with cooking spray. With floured hands form the dough into a ball and place in bowl. Cover with a kitchen towel and let rest until doubled in size, about 2 hours.
Transfer dough to a lightly floured surface and divide into 2 equal pieces. Knead each piece into a ball for about 20 seconds. Cover with kitchen towel and let rest 1 hour.
Heat a saucepan over medium heat and combine the diced tomatoes and marinara seasoning. Allow to simmer until ready to assemble the hot pockets.
Preheat oven to 450 degrees F. Heat a large skillet over medium heat and add turkey sausage and seasoning. Cook turkey until no longer pink, about 8 minutes. Transfer to a bowl and set aside.
Carefully wipe out skillet then mist with cooking spray and add spinach, stirring until wilted. In a medium bowl, stir together egg, mozzarella and ricotta. Stir in spinach until combined.
Line 2 rimmed baking sheets with parchment paper. Divide each ball of dough into 4 equal pieces. Onto a lightly floured surface, place 1 piece of dough and roll into a thin circle, about 8 inches in diameter. Keep the remaining dough covered with a kitchen towel.
Spread about 3 1/2 tbsp. marinara mixture on half of the circle. Top with 1/3 cup turkey and 1/4 cup ricotta mixture. Fold the dough over the filling and press edges together to seal. Transfer hot pocket to prepared baking sheet. Repeat with remaining dough and filling.
Lightly brush hot pockets with olive oil and with a thin knife, make 3 small slits through the top of each pocket. Bake until the dough is golden brown, about 18-20 minutes. Cool on baking sheets 5-10 minutes and enjoy!
Notes
If you prefer a smoother marinara sauce, feel free to omit the diced tomatoes & seasoning and use 1 3/4 cup marinara sauce of your choice.
Adapted from Cleaning Eating Magazine
Diet Deep Dish http://dietdeepdish.com/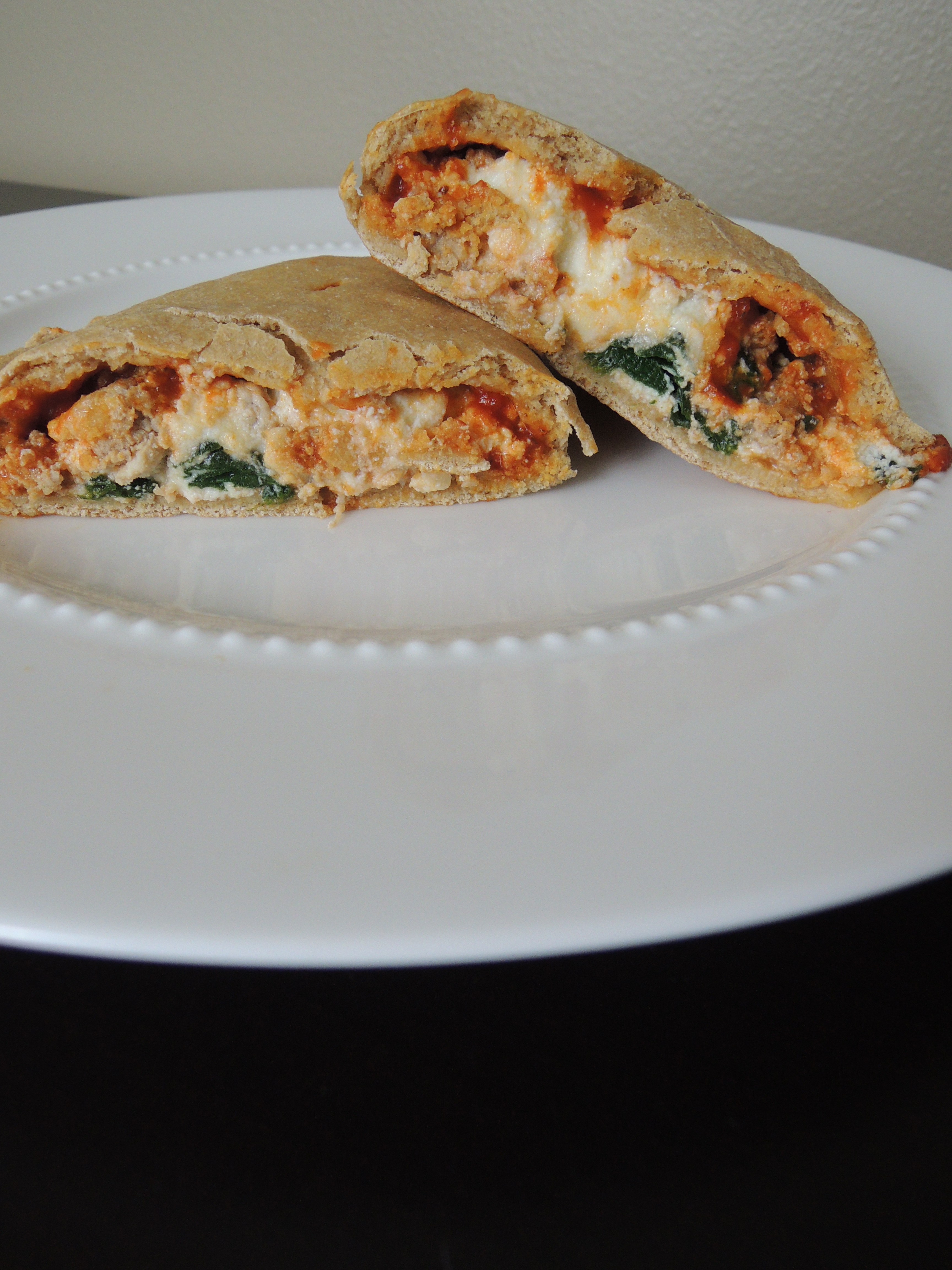 Have you signed up for your free ebook yet?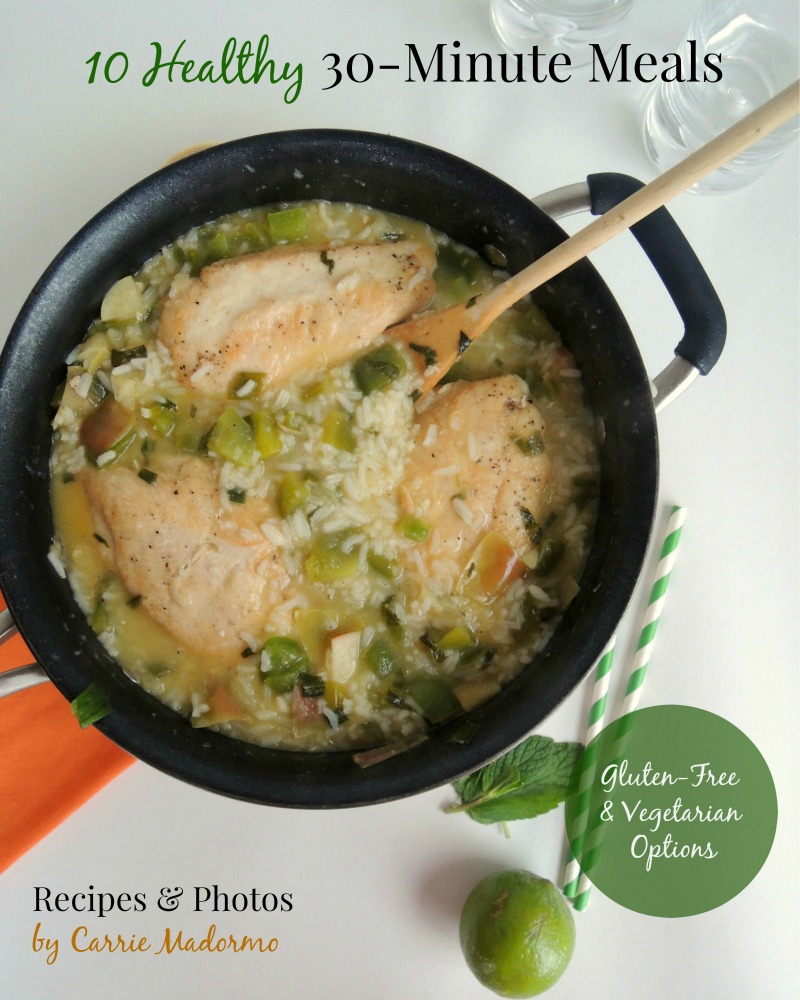 This post contains affiliate links - All sales support Diet Deep Dish