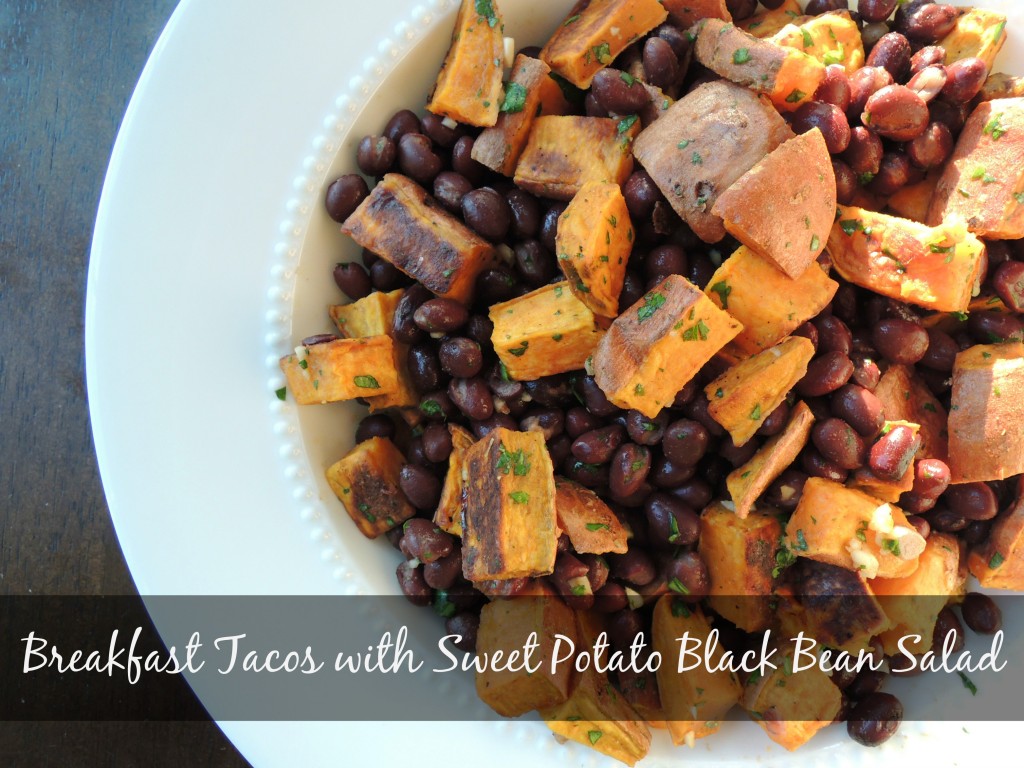 If you've been looking for an easy, healthy, satisfying vegetarian meal, then pull up a chair, pour yourself some breakfast sangria, and prepare yourself for breakfast tacos with sweet potato black bean salad! This meal is hearty enough for dinner, but could easily be served for a laidback weekend brunch as well.
After returning home from a week-long vacation, I was craving something light and healthy (I devoured an obscene amount of peanut butter m&ms last week), but also quick and satisfying. I started with 2 corn tortillas (I've tried making a taco with just one, but it usually ends up in my lap) and then added scrambled eggs, a simple 5-ingredient salsa and fresh avocado. The tacos are full of fresh summer flavors, but it's really the sweet potato salad that makes this dish!
The roasted sweet potatoes and black beans are tossed in a cilantro lime dressing and can easily be doubled or tripled to feed a crowd. I ended up taking the leftover salad for lunch all week, and it definitely took the edge off going back to work. The cilantro gives the sweet potatoes just a little kick - a perfect way to shake up my favorite side dish!
And speaking of vacation, don't forget to enter the Badass Coffee Giveaway!! The winner will be announced Monday, 7/21/14. Good luck!
Breakfast Tacos with Sweet Potato Black Bean Salad
2014-07-13 18:21:54
Serves 4
Fresh breakfast tacos topped with a simple salsa and served with savory sweet potato black bean salad!
Ingredients
2 medium sweet potatoes, cut into 1-in. pieces
1 tbsp. extra virgin olive oil
Sprinkle of salt and pepper
Half of a red onion chopped, about 1 cup
2 minced cloves of garlic, divided
1 lime
4 tbsp. chopped cilantro, divided
2 roma tomatoes, chopped
1 tsp. cumin
1/4 tsp. chili powder
1 can black beans, drained and rinsed
3 eggs + 3 egg whites
1 ripe avocado, cut into strips
1/2 cup shredded cheddar cheese
1/2 cup nonfat plain Greek yogurt
Corn tortillas
Instructions
Spread the sweet potatoes over a foil-lined baking sheet and drizzle with olive oil, salt and pepper. Toss with hands and bake at 425 degrees for 20 minutes, until tender.
While the sweet potatoes bake, make the salsa. Combine the tomatoes, onion, 1 minced garlic clove and 2 tbsp. chopped cilantro. Squeeze half of the lime juice over the mixture, stir to combine and set aside.
In a large bowl, prepare the salad by whisking together the remaining lime juice, 1 minced garlic clove, 2 tbsp. chopped cilantro, cumin and chili powder. Pour in the black beans and cooked sweet potato and toss to coat. Set aside.
In a medium bowl, whisk the eggs and egg whites together and heat a nonstick skillet over medium heat. Pour the eggs into the skillet and heat until cooked through, stirring constantly.
To assemble the tacos layer 2 corn tortillas on a plate and top with eggs, salsa, avocado and any other desired toppings. We used shredded cheddar cheese and plain Greek yogurt (instead of sour cream).
Serve with the sweet potato black bean salad and enjoy!
Diet Deep Dish http://dietdeepdish.com/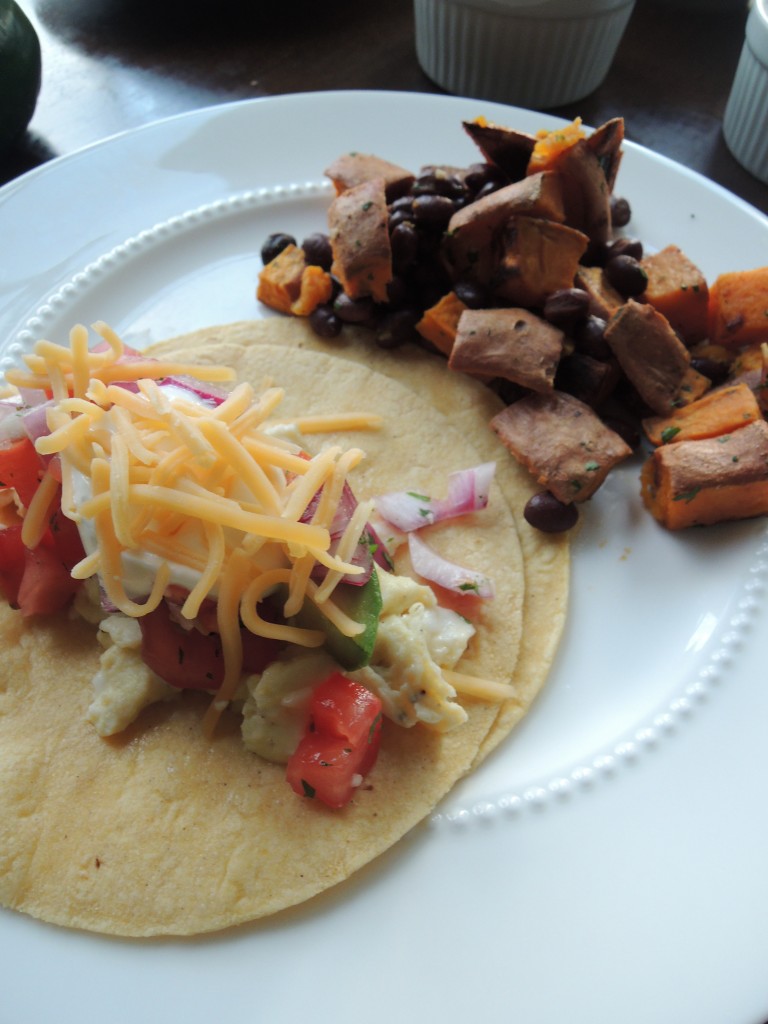 Have you signed up for your free ebook yet?