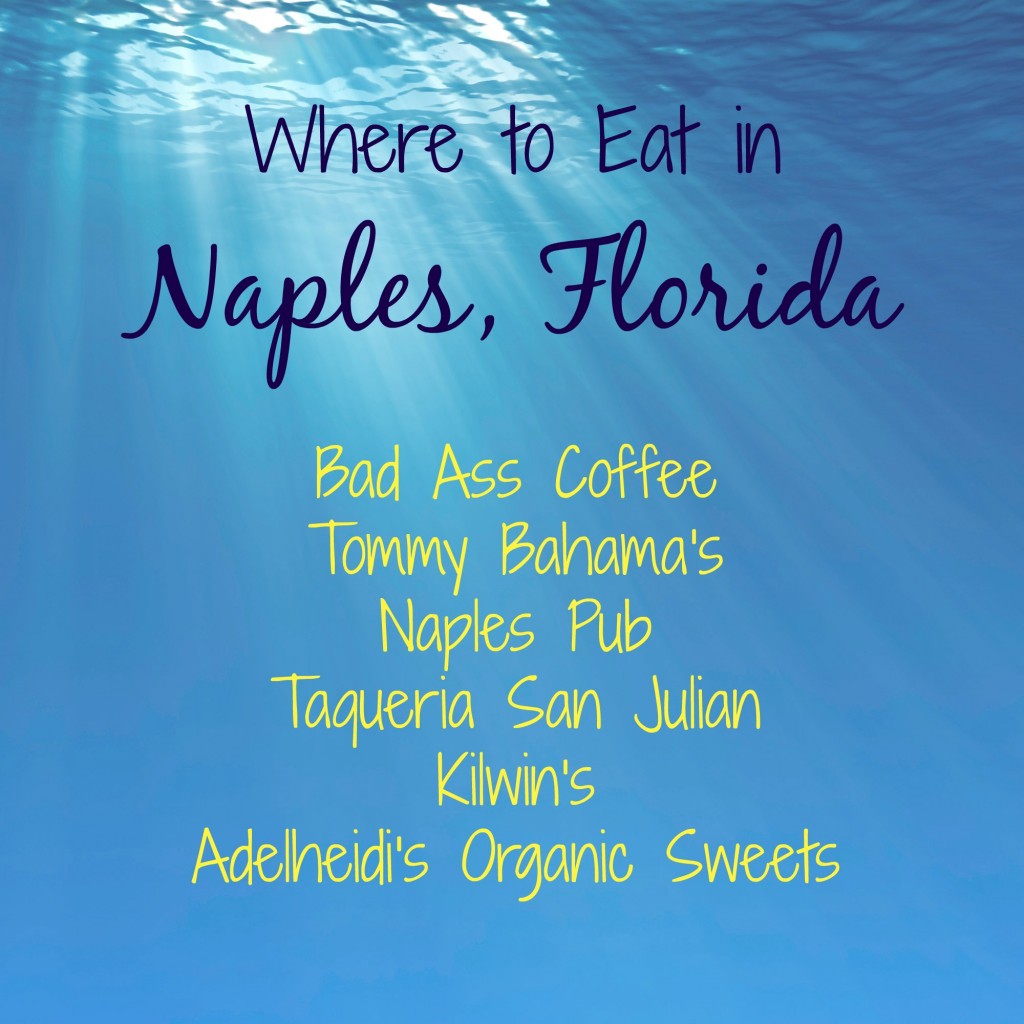 Naples, Florida just may be the perfect vacation city. With easy access to both downtown and the beach, you rarely need a car. The people are friendly and welcoming, and if you can stand the 90% humidity, there are plenty of outdoor cafés and local shops to explore. We came home yesterday after a glorious week there, and I'm still on that vacation high. We stayed in a gorgeous rental house near the pier with my parents and sisters, and we're really missing them already.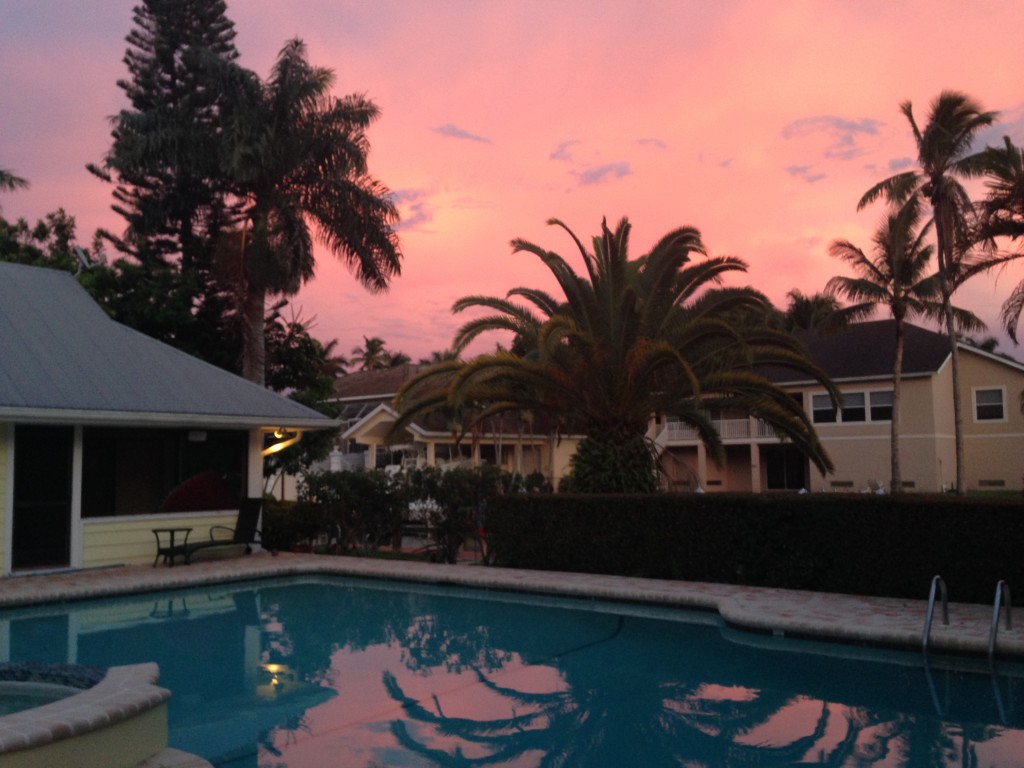 And now on to the most important part of any vacation… the food! There are so many amazing options, and we only tried a fraction of them. We mostly stuck to toddler-friendly dining, but there is a wide array of choices. Here are some of my favorites!
Places to Eat in Naples, Florida
I will start with my favorite - Bad Ass Coffee is a gourmet coffee company based out of Hawaii. Their iced coffee is delicious, but it was their signature drinks that kept us coming back almost every morning! My favorite was the Snickerlicious frozen coffee, which had sugar-free chocolate, caramel and hazelnut syrups. I'm already in withdrawal.
Before this trip, I never knew that Tommy Bahama's had restaurants. We celebrated our first night here, and it did not disappoint. Looking at the menu, you'd think this place would be pretty formal, but the mood is relaxed and casual. There is beautiful outdoor seating with fans, but we opted for air conditioning. I ordered an appetizer and a side (pulled pork goat cheese quesadillas and roasted asparagus) and Tim ordered 2 appetizers (scallop sliders and the crab cakes). Everyone loved their food, and the drinks are also fabulous but STRONG! I had the grapefruit basil martini and could barely drink half.
For our last night we walked to Naples Pub and sat on the patio. Their outdoor seating area is completely covered and decorated with tiny white lights on all the trees. Our food came incredibly fast, which we appreciated because we were already pushing Charlotte past her bedtime. I split the Crispy Chicken Salad (substituted grilled chicken) and Honey Bacon Chicken sandwich with my mom, and we had more than enough food. There is also a huge selection of seafood, and Tim loved his Crispy Fish Wrap.
We would never have found Taqueria San Julian if it weren't for Yelp. Tim and I found one afternoon to sneak away for a lunch date, so he looked at the highest-rated Naples restaurants on Yelp. All of the reviews raved about authentic tacos with fresh ingredients, and they could not have been more right. The guacamole was out-of-this-world! It was just bursting with flavor! As if that wasn't good enough, our entire meal with an appetizer and margarita was $19. From the outside, it looks like this little house, but don't pass it!! This is a must-see in Naples.
And now onto dessert…
Kilwin's is centrally-located on 5th Avenue and offers house-made chocolates and ice cream. They also have lots of cute gift bags, perfect for souvenirs. Walking down 5th Avenue, you will pass at least 10 ice cream shops, but I would definitely recommend stopping in this one. I had a scoop of Naples Mud, and Tim went for Butter Pecan. They have a huge selection of handmade candy, and the chocolate-covered s'mores looked amazing.
Adelheidi's Organic Sweets in also located on 5th Avenue, and also offers a large selection of candy and ice cream, except everything is organic. Their gelato is creamy and rich, and I loved that they had so many vegan options. In the picture below, Charlotte had the cookies and cream gelato (I love those little fingers) and I had 2 scoops of the vegan sorbet (berry and green power). This was perfect, because I was craving something cold during our walk, but wanted something light. Their candy is a little pricey, but very good. We brought home a bag of gummy bears, and they quickly disappeared.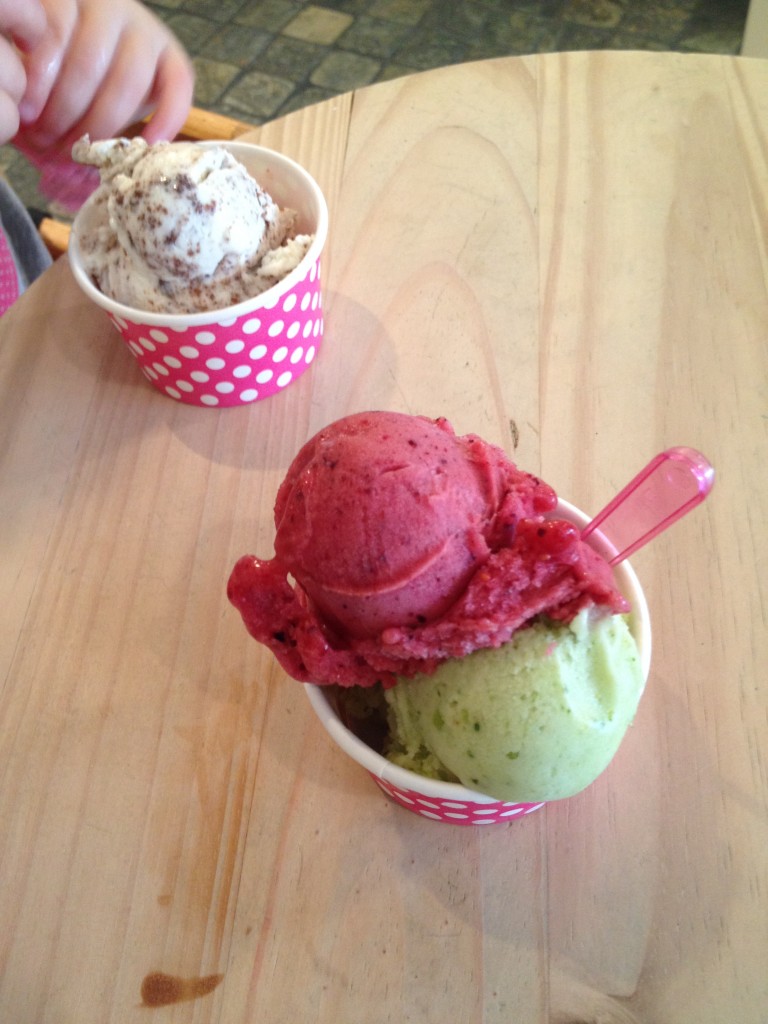 And now, GIVEAWAY time! I was not kidding when I said that I LOVED Bad Ass Coffee. I think everyone should experience it, so I'm giving away an 8 oz. bag of their American Roast coffee. To enter, simply leave a comment below telling me your favorite vacation spot. I will randomly choose the winner next Monday, 7/21. Good luck!
And if you're planning your trip to Naples, please let me know! We can't wait to go back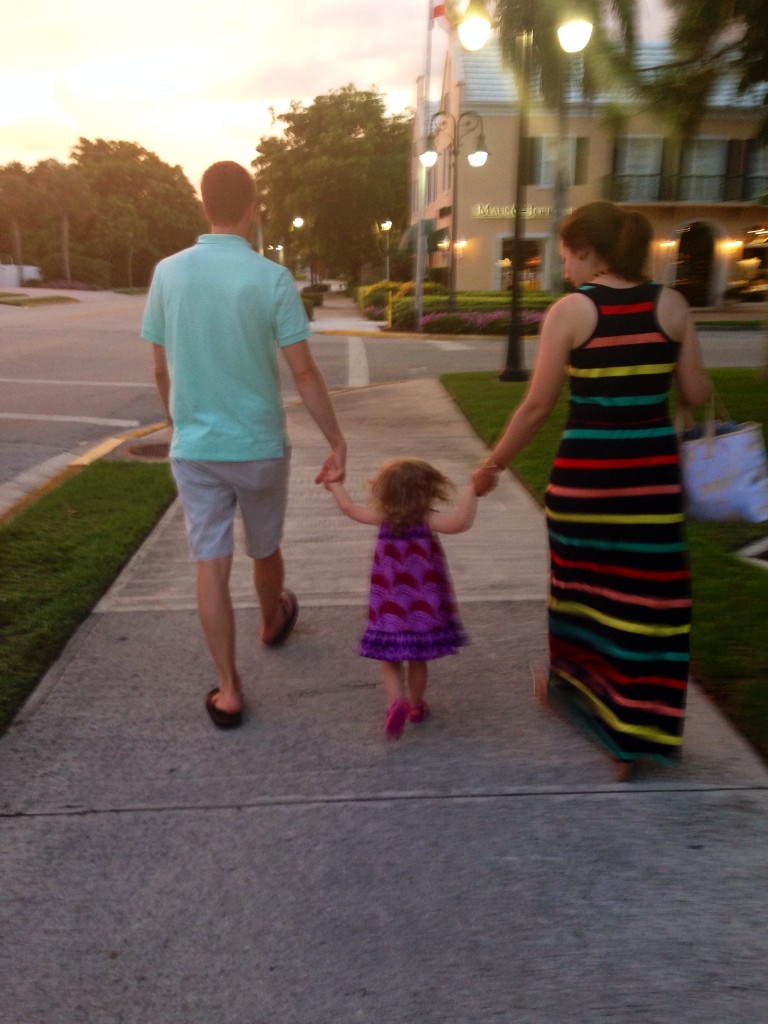 This is not a sponsored post. I purchased the giveaway coffee, because I loved it. Good luck!