There are so many things I love about summers in Milwaukee… the festivals, free outdoor music almost every night, and seeing everyone outside soaking up as much sunshine as possible. However, all these wonderful things can be a little distracting when you're, say, trying to keep up a growing food blog… I have to admit, I was starting to feel a little burnt out trying to keep up with the constant posting, tweeting, instagraming, FBing, etc. Any time I was out doing something fun, I'd find myself thinking, "I should Instagram this" instead of just enjoying it! So I took a much needed few weeks off and am now back and feeling refreshed!
I'm excited to share this recipe for Strawberry Lemonade Sandwich Cookies! They are the quintessential summer dessert and are a cinch to throw together. Fresh strawberries and whole grain oats combine with light lemon frosting to create a sweet and satisfying summer snack!
This month the Recipe Redux hosted an "Oats & Dairy: A Powerful Combination" contest with The National Dairy Council and the Quaker Oats Center For Excellence. I immediately started thinking about how I could create a dessert with these, and sandwich cookies seemed like the perfect fit. I often use oats and nonfat dairy in my recipes, so these cookies were easy to come up with and add a little fiber and protein to your summer barbecue dessert.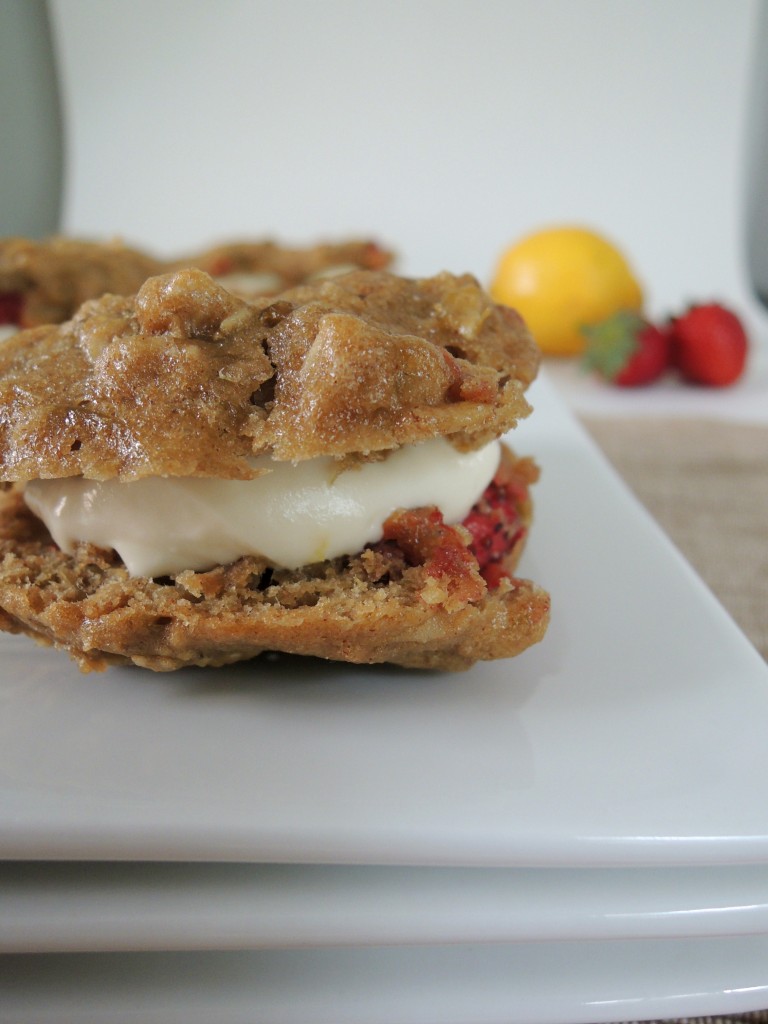 Unfortunately, after taking a closer look at the contest's fine print, I realized that this recipe didn't meet the required amount of dairy per serving to qualify for the contest, so it's not an official entry. But let's be honest… with these delicious and light little sandwich cookies, we'll all feel like winners

Happy Summer!
Strawberry Lemonade Sandwich Cookies
2014-07-20 13:14:22
Ingredients
1/4 cup (1/2 stick) butter, softened at room temperature
1/2 cup unsweetened applesauce
1/3 cup sugar
1/3 cup brown sugar
1 egg
1/2 teaspoon vanilla
1 cup flour
1-1/4 teaspoons cinnamon
1/2 teaspoon baking soda
1/2 teaspoon baking powder
1/4 teaspoon salt
1 cup diced strawberries
1 cup old fashioned oats
For the Filling
2 Tablespoons butter, softened at room temperature
4oz 1/3 less fat cream cheese, room temperature
1/2 cup powdered sugar
1/2 teaspoon vanilla
1 tsp. lemon zest
2-1/2 tsp. fresh lemon juice
Instructions
Combine butter, applesauce, and sugars in a large mixing bowl and beat for 2 minutes. Add egg and vanilla, then beat to combine.
In a separate bowl, sift together flour, cinnamon, baking soda, baking powder, and salt. Add to the wet ingredients in two batches, mixing well between each batch. Add diced strawberries and mix to combine, then add oatmeal and mix to combine. Cover bowl then place in the refrigerator for 1 to 2 hours, or until dough holds it's shape when scooped.
Preheat oven to 350 degrees. Drop 1 heaping tablespoon dough onto parchment paper lined baking sheets then bake for 10 minutes, or until set on top. Let sit on baking sheet for 2 minutes before removing to a cooling rack to cool completely.
For the filling
While the cookies are cooling, combine butter, cream cheese, powdered sugar, vanilla, lemon zest and lemon juice in a large mixing bowl. Beat until light and fluffy, about 2 minutes. Scoop into a ziploc bag, cut a small hole at the corner, then pipe onto half the cooled cookies and top with the other half. Enjoy!
Adapted from Iowa Girl Eats
Diet Deep Dish http://dietdeepdish.com/
For more recipe redux contests, check out these recipes below…
Mushroom Meatball Hoagies with Eggplant Fries