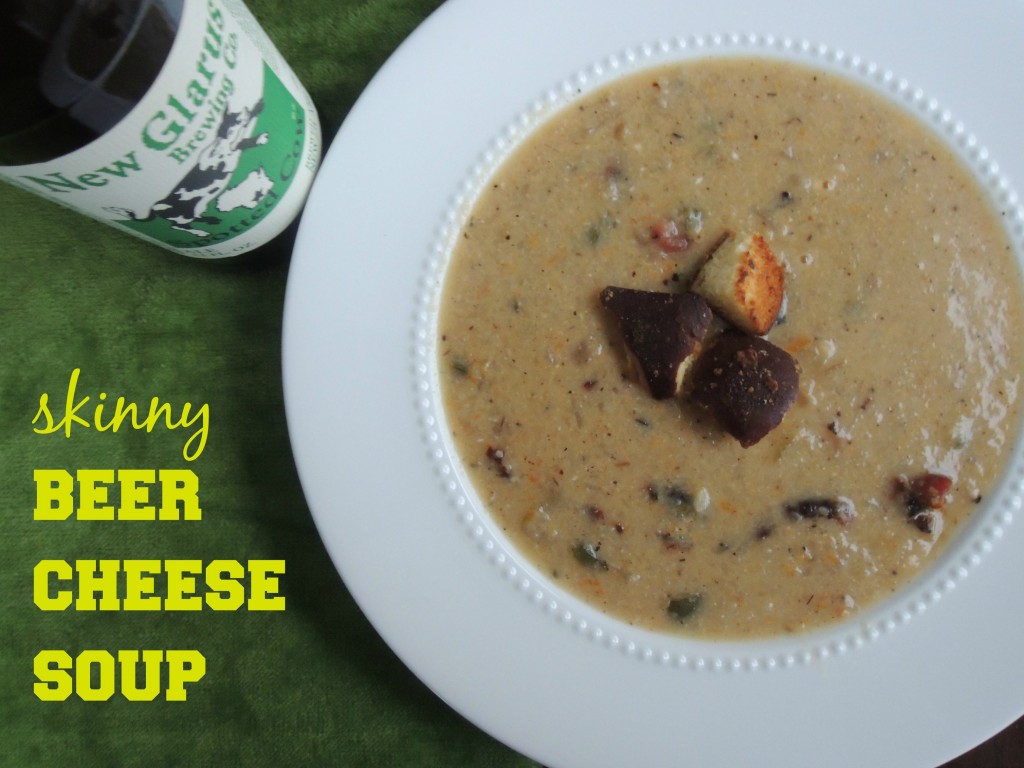 I am so excited to share this Skinny Beer Cheese Soup recipe! I think this may be my favorite recipe yet. Of course, that could be because I've temporarily given up both beer and cheese while completing the Whole Life Challenge, but this soup was worth the "cheat"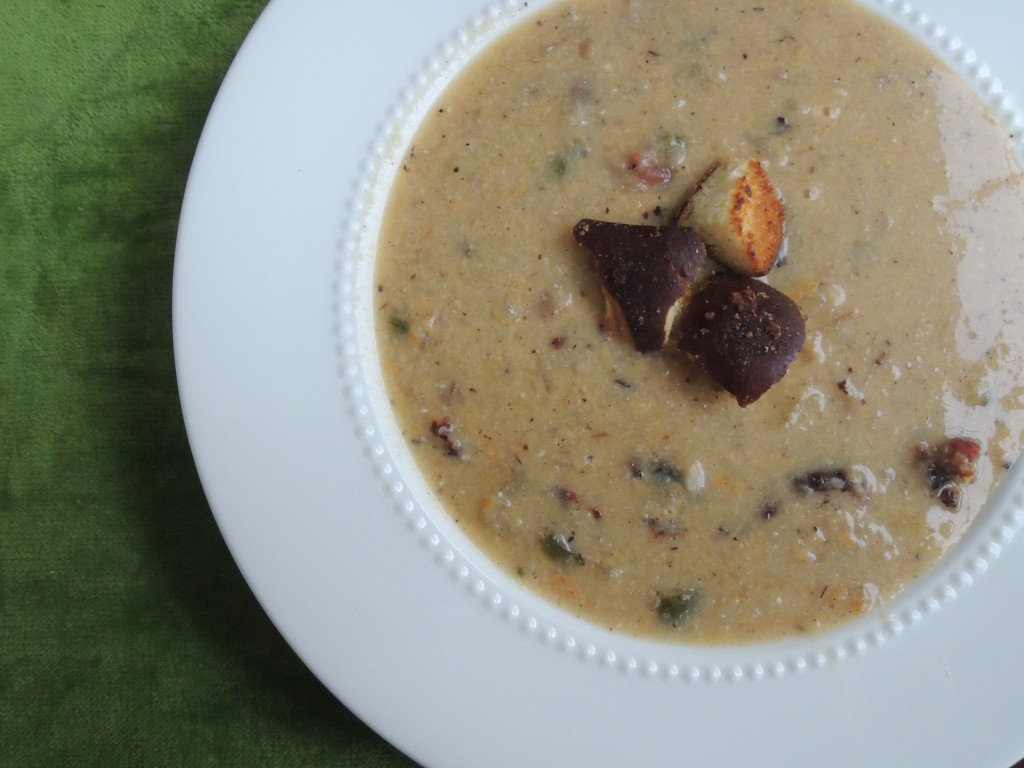 This soup packs intense, creamy flavor without using heavy cream. Pureed cauliflower and Greek yogurt add texture without upping the calories.
The pretzel croutons are the perfect topping for this soup, adding just the right amount of salt and flavor. I've also had beer cheese soup that was topped with a small handful of popcorn.
For more hearty soup recipes, check out the Diet Deep Dish store!
Skinny Beer Cheese Soup
Adapted from Food and Wine
Yields 4 bowls or 6 sides
Ingredients
1 head cauliflower, chopped
4 strips bacon
1 rib celery, chopped
1 onion, chopped
1 jalapeno, seeded and chopped
2 cloves garlic, minced or 1 tsp. garlic seasoning
1 tbsp. dried thyme
One 12-ounce bottle Spotted Cow or other beer
2 cups low-sodium chicken broth
3 tbsp. unsalted butter
1/4 cup whole wheat flour
1 tsp extra virgin olive oil
1/2 of a pretzel roll cut into 1/2 inch cubes (to make croutons)
2 cups reduced-fat sharp cheddar cheese
1/2 cup plain nonfat Greek yogurt
Salt and pepper to taste
Preparation
Steam the cauliflower until tender and place in food processor. Blend until smooth and set aside.
In a large saucepan, cook the bacon until crisp. Remove with a slotted spoon, crumble and set aside.
Add the celery, onion, jalapeno, garlic and thyme to the same saucepan and cook until tender, about 8 minutes. Add the pureed cauliflower and cook for an additional 2 minutes.
Pour in half the beer and cook until reduced by half, about 5 minutes. Add the chicken broth and bring to a simmer.
Melt the butter in a small saucepan. Whisk in the flour to create a roux and cook about 2 minutes. Whisk into the soup and bring to a simmer. Cook until thickened, about 8 minutes.
In the small saucepan that had the roux, add the olive oil and bread cubes. Toss to coat and toast the bread until slightly browned, about 5 minutes and set aside.
Add the cheese and remaining beer to the soup and simmer until thick and creamy, about 5 minutes. Remove from heat and mix in the Greek yogurt and bacon. Add salt and pepper if desired.
Ladle into 6 bowls, top with pretzel croutons and ENJOY!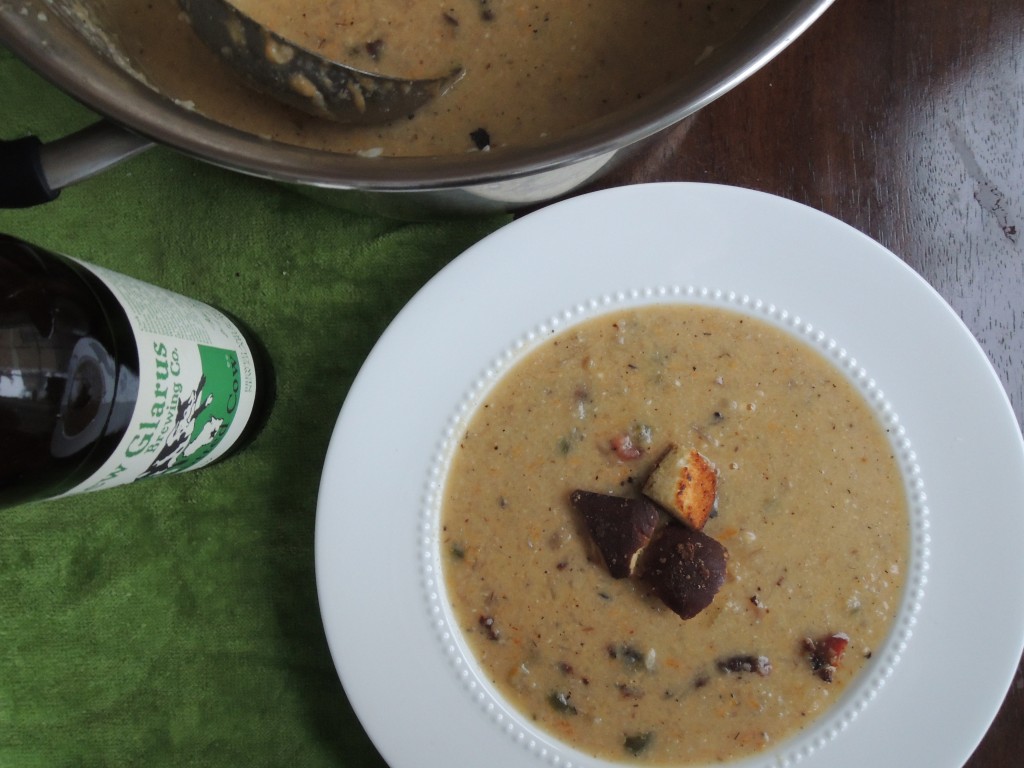 This post contains affiliate links - All sales support Diet Deep Dish