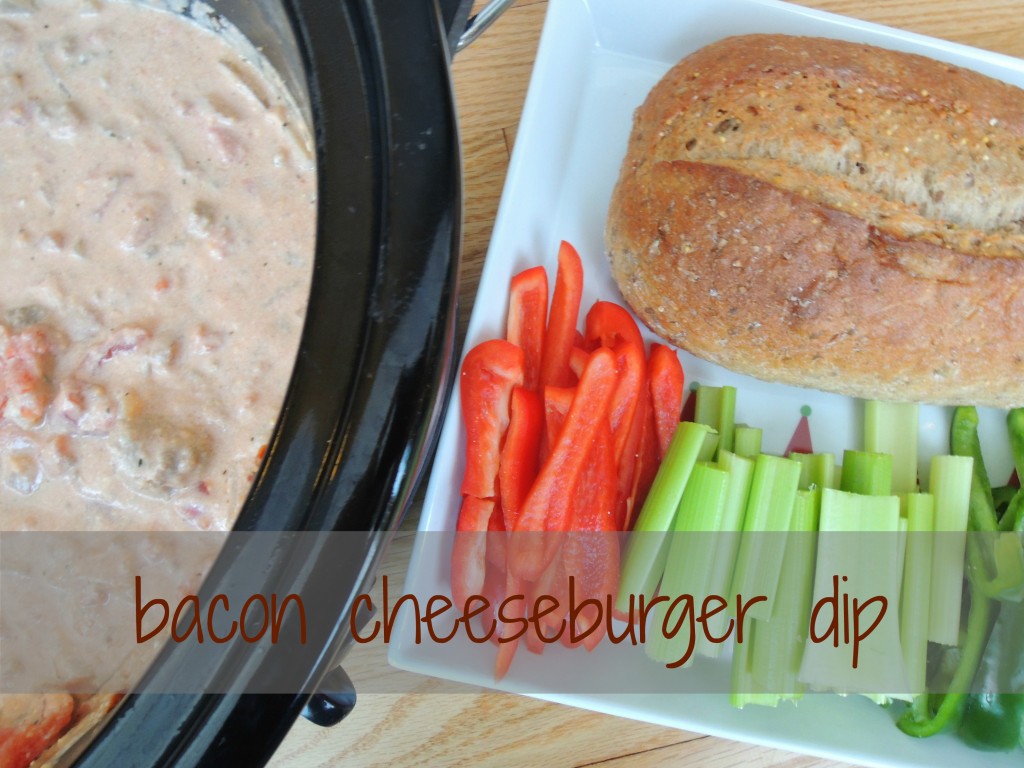 This slow cooker bacon cheeseburger dip is creamy and satisfying, perfect for a New Years Eve or Super Bowl party! There's also very little prep work, so it's an easy dish to bring. We brought this on Christmas Eve, and it was a hit. We needed to do something easy, because we had some work to do that night…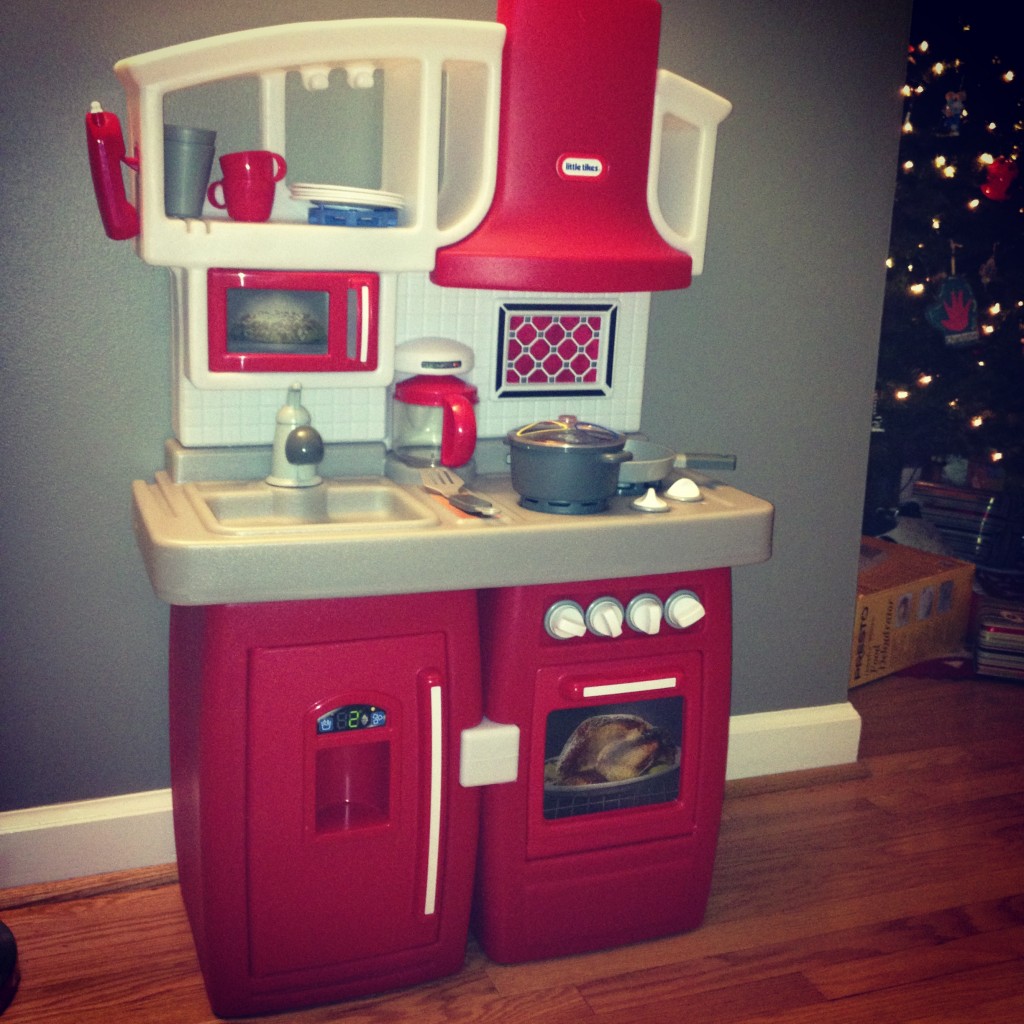 The best part of Christmas this year was watching Charlotte unwrap this completely adorable Little Tikes kitchen. Now I have a little helper for the blog

To lighten-up this dip, we will use lean ground beef, reduced fat cheddar cheese and turkey bacon. Finally, serve with lots of vegetables for a healthy and delicious party snack! Enjoy!
For more healthy dip ideas, check out the Diet Deep Dish store!
Slow Cooker Bacon Cheeseburger Dip
Adapted from Pass the Sushi
Ingredients
1 tsp olive oil
1 lb lean ground beef
2 tbsp hamburger seasoning
1 tsp cumin
salt and pepper
1 medium onion, chopped
1 (8 oz) block reduced fat cream cheese
2 (10 oz) cans diced tomatoes
2 cups shredded reduced fat cheddar cheese
1 cup plain nonfat Greek yogurt
4 strips cooked turkey bacon, crumbled
Serve with sliced bell peppers, celery & crusty bread
Preparation
Heat olive oil in a skillet. Brown the ground beef with onion, hamburger seasoning, cumin, salt and pepper. Once cooked through, drain the excess fat and place mixture in a slow cooker.
Stir in the cream cheese, tomatoes and shredded cheese. Cook on low for 3-4 hours, until the cream cheese is completely melted.
Change the slow cooker setting to "Warm," stir in the Greek yogurt and top with turkey bacon.
Serve with sliced bell peppers, celery & crusty bread. Enjoy!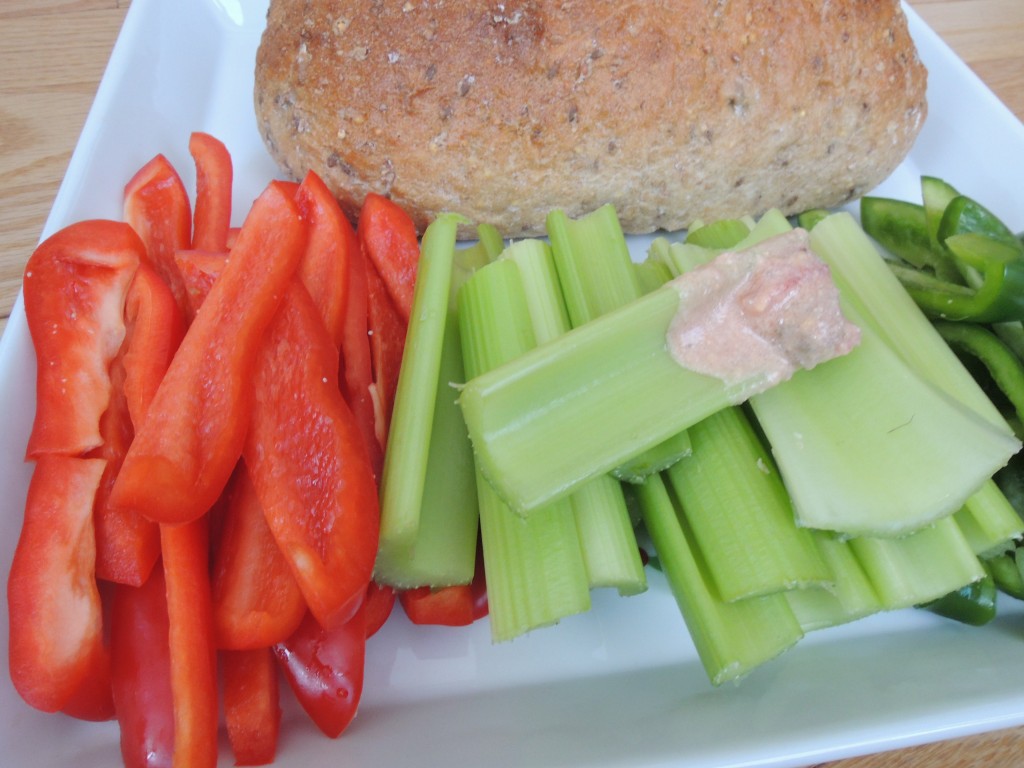 This page contains affiliate links - All sales support Diet Deep Dish