Happy Friday!  I'm kicking off the weekend with a healthy twist on a decadent brunch favorite… Lightened-up Crab Cake Eggs Benedict!  You will love this dish, because it's surprisingly quick and easy to make and tastes just as rich and satisfying as the original.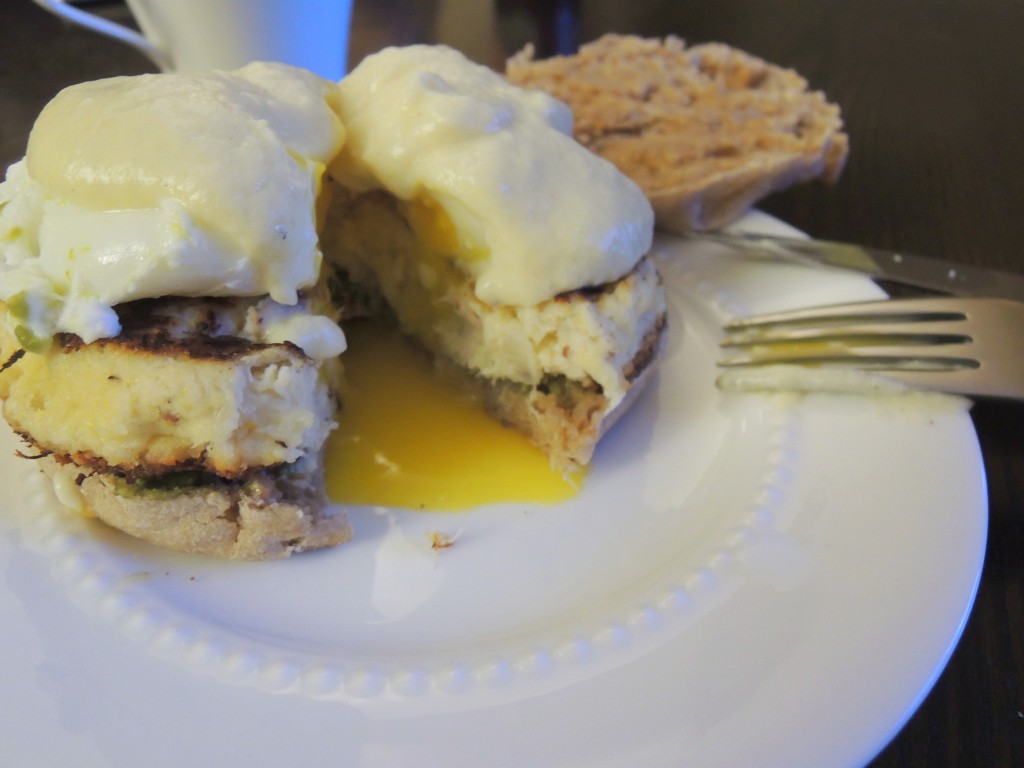 I'm also excited about this post, because it is my first contribution to the Recipe Redux.  The Recipe Redux is a recipe challenge group of healthy food bloggers started by registered dieticians.  Each month members are challenged to make-over a delicious dish.  The theme for March was the stacked patty.  At the bottom of the post, I've attached links to other healthy food bloggers taking on the stacked patty!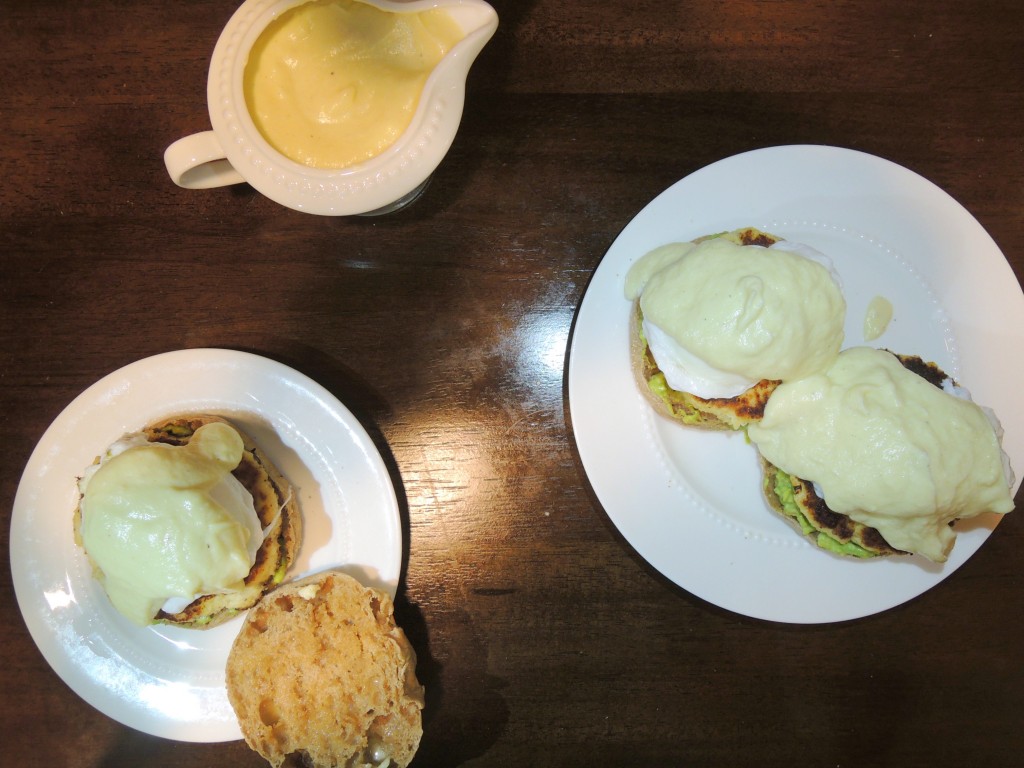 This dish does not exactly fit into the Friday Fish Fry series, but it would still make a great Lenten dinner!  I also needed a break from fried cod, as we've eaten it the past 3 weekends…
Both the hollandaise sauce and crab cakes can be prepared ahead of time.  The amazingly rich and creamy hollandaise sauce is from Eating Well.  The recipe calls for 3/4 cup buttermilk, but I ended up using a little more to thin it out.
Enjoy!  Hope you have a fun and relaxing weekend!
Summary: A healthy twist on a decadent brunch classic!
Ingredients
1 tablespoon butter
3/4 cup nonfat buttermilk, divided
1 tablespoon cornstarch
1/2 teaspoon salt
Pinch of chili powder
1 large egg, lightly beaten
1 tablespoon lemon juice
1 tbsp. plain nonfat Greek yogurt
1 tbsp. lemon juice
5 eggs (1 for the crab cakes and 4 additional)
2 tbsp. minced onion
1 tsp Dijon mustard
1/4 tsp black pepper
1/4 tsp salt
2 (6 oz) cans crab meat
1/3 cup almond flour
1 tbsp. extra virgin olive oil
2 whole wheat English muffins
1/2 avocado, mashed
Instructions
To prepare the hollandaise sauce, melt 1 tbsp. of butter in a small saucepan and set aside. In a medium saucepan,whisk together 1/4 cup buttermilk, cornstarch, salt and chili powder until smooth. Whisk in egg and remaining buttermilk.
Place the saucepan over low to medium heat and cook the sauce, stirring constantly until it comes to a simmer. Whisk for 15 seconds, then remove pan from heat and whisk in lemon juice and melted butter. Set sauce aside until ready to serve.
To prepare the crab cakes, mix together the Greek yogurt, lemon juice, egg, onion, mustard, pepper and salt. Fold in the crab meat and almond flour. Cover and chill for at least 30 minutes.
Form the crab mixture into 4 patties. Heat 1 tbsp. extra virgin olive oil in a large saucepan over medium heat. Heat crab cakes in pan until golden, about 4 minutes on each side.
Toast the 2 English muffins and spread with mashed avocado. Place one crab cake on each muffin half.
To prepare the poached eggs, fill a wide saucepan with water and bring to a boil. Crack one egg into a small bowl and gently slide it into the boiling water. Allow to simmer until the egg white is opaque and the egg holds its shape, about 3-4 minutes. Remove with a slotted spoon and place over one of the English muffin halves. Repeat with the remaining 3 eggs.
Top all 4 patties with a generous helping of hollandaise sauce and enjoy!
Number of servings (yield): 2-4