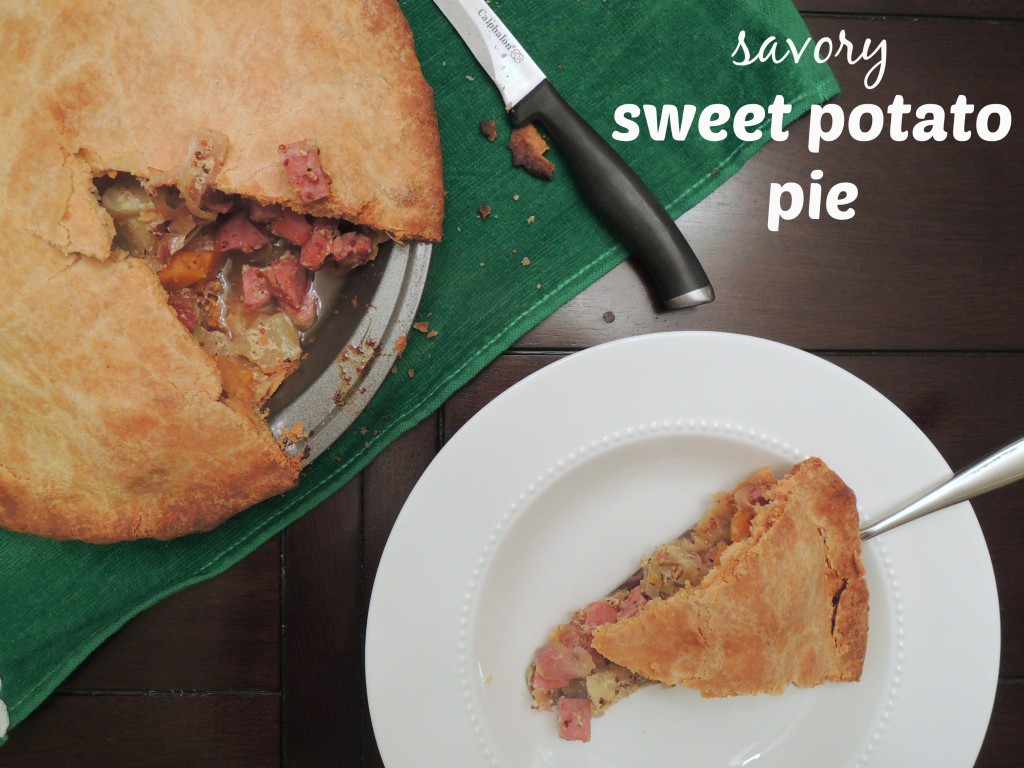 With the freezing temps and recent snow, I just wasn't quite ready to post a light lemon or lavender spring recipe.  This savory sweet potato pie seemed much more appropriate.  I recently purchased my new favorite cookbook, The Chicago Homegrown Cookbook.  I was looking for a little more inspiration for Chicago dishes to lighten-up, and this was perfect.  The book features top Chicago chefs working with local farmers to bring to best homegrown food to Chicago.
One of the chefs featured is Paula Haney of Hoosier Mama Pie Company.    As soon as I saw the name, I knew I wanted to try to re-create one of the dishes.  I adore their chocolate cream pie, but didn't realize they also serve savory pies.  The cookbook provides the recipe for their cream cheese pie crust, as well as the sausage apple filling.  By cutting down on the butter and making some small substitutions (sweet potatoes instead of white, turkey sausage instead of pork) we're able to cut the fat and calories while still keeping all the amazing, satisfying, creamy flavor.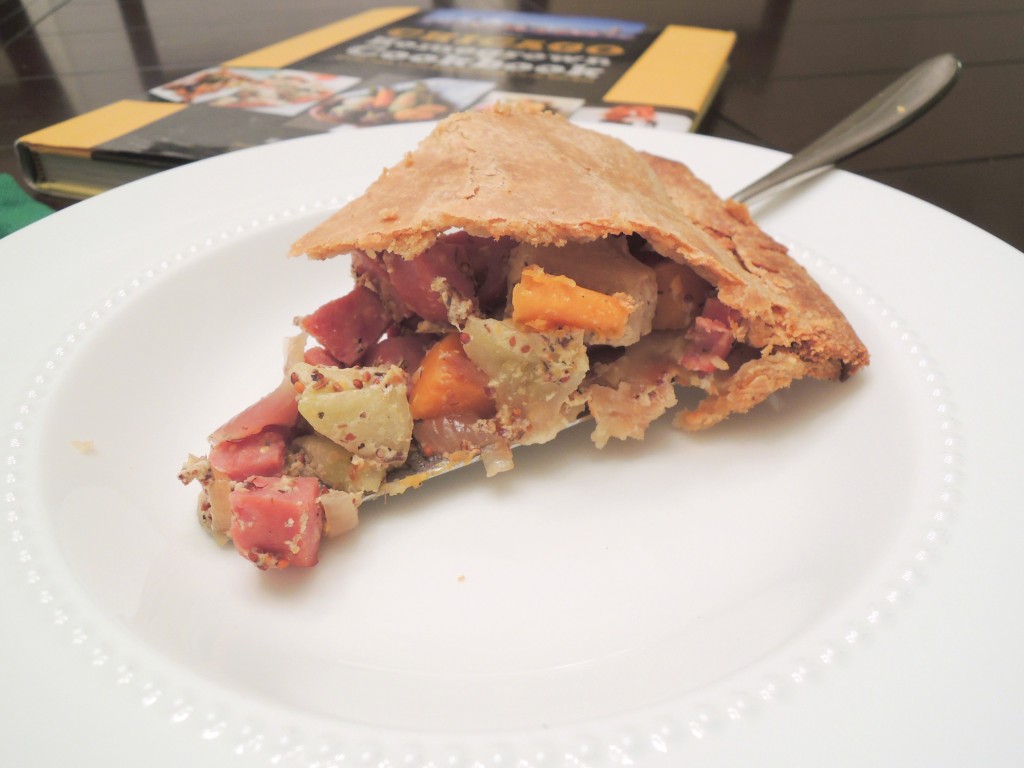 Start by combining the flour, cream cheese and butter with your fingers.  The mixture will eventually resemble a course meal with some larger pieces.
Once you've formed your dough into 2 discs, chill for at least 1 hour.  I ended up chilling them for almost 3 hours, and they were very easy to work with.
The pie filling is very simple, with only a few ingredients, but they combine perfectly.  Adding Greek yogurt gives the filling a rich, creamy taste while staying light.
Roll both dough discs into 14-in circles.  After placing the 2nd circle over the top of the pie, I had quite a bit of dough leftover.  I removed the extra dough to freeze for later.  You won't miss it, and this is an easy, painless way to cut the calories.
Summary: This light & savory pie combines sausage, sweet potato and apple for a satisfying winter meal!
Ingredients
2 cups whole wheat pastry flour
7 tbsp. butter, chilled
3 oz reduced-fat cream cheese, chilled
6-8 tbsp. ice water
2 tbsp. extra virgin olive oil
1 cup onions, halved and sliced thin
2 cups 1-in. cubed sweet potatoes
1 lb. turkey sausage
2 cups 1-in. cubed tart apples
2 tbsp. grainy Dijon mustard
1 tbsp. dried thyme
1 tbsp. dried rosemary
6 tbsp. plain nonfat Greek yogurt
½ tsp salt
Black pepper to taste
¼ cup liquid egg whites
Instructions
To prepare the crust, cut the chilled butter and cream cheese into 1 inch pieces and place in a large bowl with the flour. Rub ingredients together with fingers until it resembles a course meal with some pea-sized pieces. Sprinkle water over the mixture, one tablespoon at a time and knead lightly until a dough forms. Form dough into a ball, cut in half and press each into a disc shape. Wrap each disc in plastic wrap and chill for at least 1 hour.
To prepare the filling, heat olive oil in a large sauté pan. Add onions and sauté until soft and just starting to brown. Add potatoes, reduce heat the medium low, and sauté until potatoes can be pierced by a fork. Transfer potatoes and onions to a medium bowl.
Place pan back over medium heat, add turkey sausage and sauté until cooked through. Transfer sausage to the bowl with the potatoes and onions, and add apple, mustard, thyme, rosemary, yogurt, salt and pepper. Mix to combine and allow to cool before using.
Remove the pie crust discs from the refrigerator and roll out two 14-in circles. Place one in a 9-in pie pan and cover with pie filling. Place the 2nd pie crust over the top and roll the edges of the 2 pie crusts under the pan, discarding any extra. Brush the top of the pie with the liquid egg whites and cut 4 team vents in the top. Place in the freezer for at least 1 hour before baking.
Preheat the oven to 400 degrees F and bake pie for 45-55 minutes. When done, pie crust will be golden brown with the filling bubbling up through the vents. Enjoy!
Preparation time: 2 hour(s) 20 minute(s)
Cooking time: 50 minute(s)
Number of servings (yield): 6