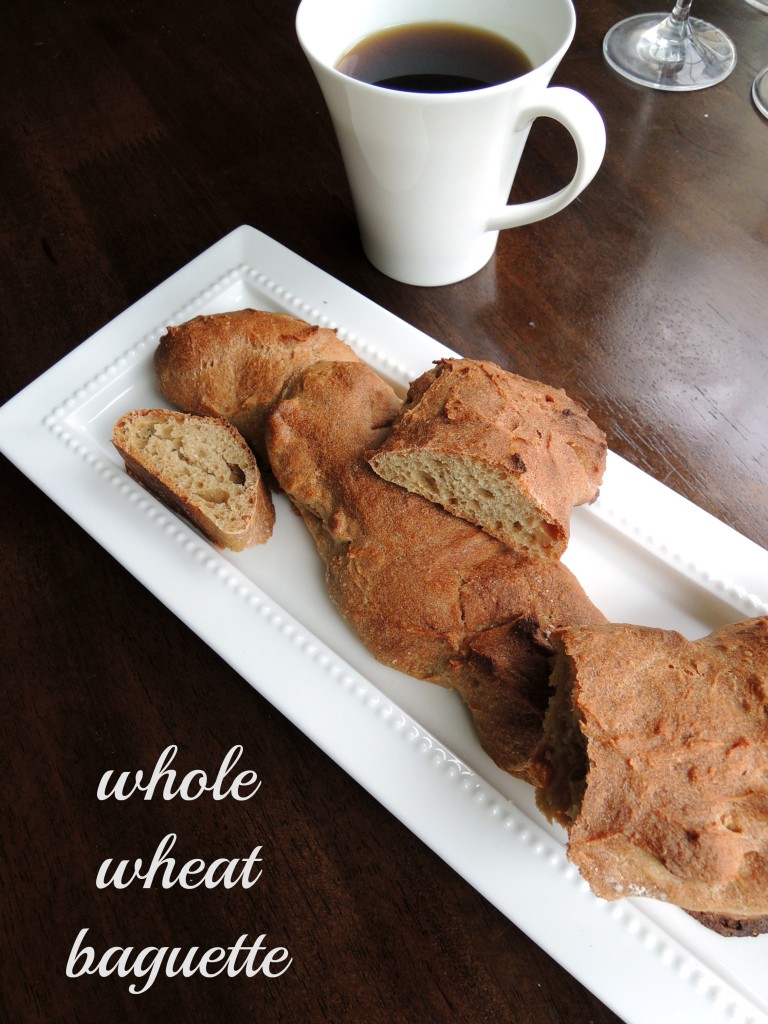 Ever since the North Shore Boulangerie opened in Shorewood, I've been in a very French mood. There is just something magical about walking into a little café and smelling fresh bread. Last weekend we tried the beer cheese bread (French pastries - Wisconsin style), and it was amazing!! I was inspired to try my own, and while the baguette dough is a little time-consuming, each step is very easy. The result is a light and airy bread perfect for hearty sandwiches or a simple smear of jam!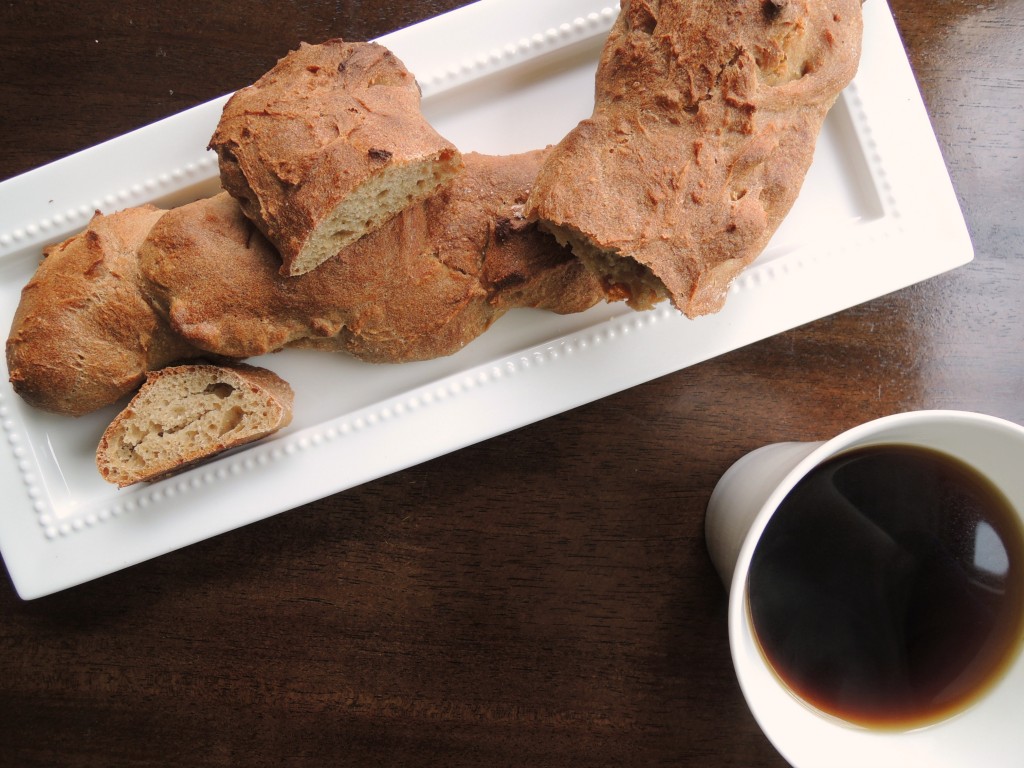 My French-obsession came at an excellent time, because my Fashion Friday inspiration for the week - Emily of Isn't That Charming is on the same page. I think she put it best in her A Weekend in Paris post when she described French style as "put together without even trying." We're intrigued by how effortlessly chic the French are, and baking baguettes over the weekend will only get you closer to that level. I'll admit that I've even read books about how the French make everything look so easy - like stay thin while seeming to consume copious amounts of cheese and red wine… French Women Don't Get Fat
Or raise happy, energetic children who somehow are able to sit still in a restaurant and then eat their salad & mussels without a peep… Bringing Up Bébé: One American Mother Discovers the Wisdom of French Parenting

So go ahead, pour yourself a glass of champagne and let's dive in to this baguette recipe! The dough will be extremely sticky. Feel free to add flour as needed while you knead the dough. Because I felt like the dough was too wet to handle, I just kneaded it with a rubber scraper, folding over and over for about 10 minutes (picture below). This was much easier than trying to use my hands.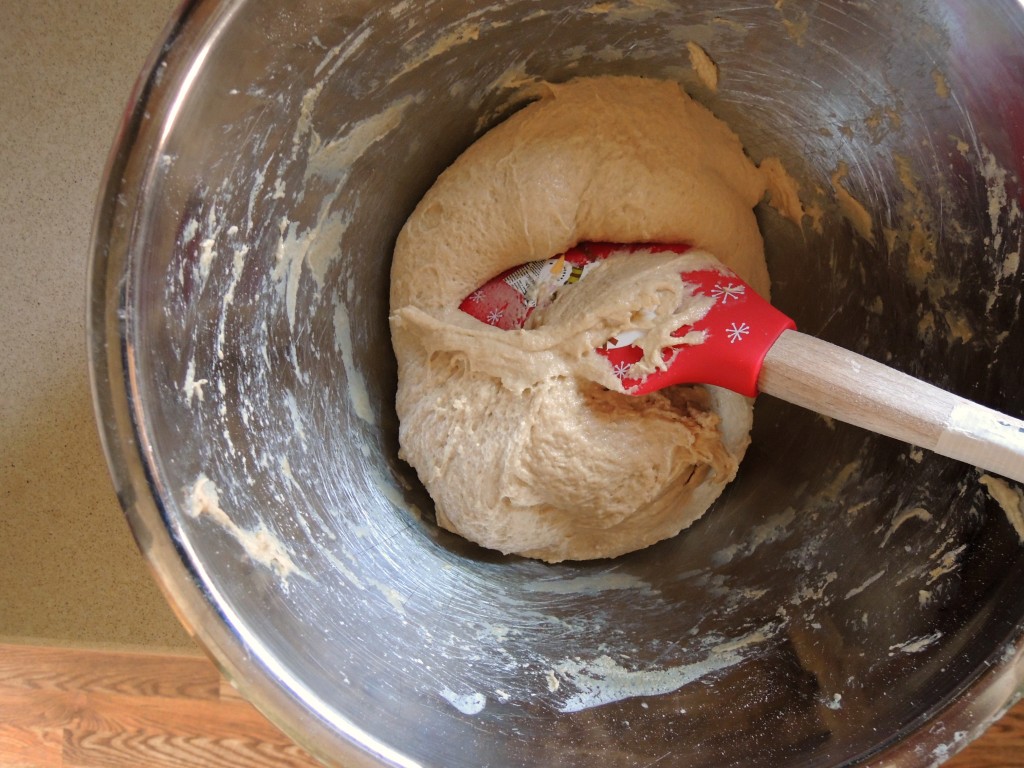 The entire dough process will take about 4 hours, with the dough needing to rest for about an hour between each step. This is needed to ensure that your baguette will have the large bubbles and be nice and light when you break it open.
Whole Wheat Baguette
2014-06-05 20:52:57
A light and airy French bread - perfect for sandwiches or a simple smear of jam!
Ingredients
1 1/2 cups warm water
1 tsp. active dry yeast
3 1/4 cups whole wheat pastry flour (plus extra for kneading)
1 1/2 tsp. salt
Vegetable oil for greasing the bowl
Approximately 1/2 cup ice cubes
Instructions
In a large bowl, whisk warm water and yeast together. Let sit 10 minutes until slightly foamy. Stir in flour and wait 20 minutes for flour to hydrate. Add salt and knead on a lightly floured surface 10 minutes until dough is smooth.
Place dough in an oiled bowl. Turn to grease the top and cover with plastic wrap. Let rise until doubled, about 45 minutes.
Remove dough from bowl and set on a lightly floured surface. Lightly shape into a rectangle and fold like an envelope — long sides in first, then short sides (pictures above). Return dough, seam side down, to bowl. Re-cover with plastic and let rise again until doubled in size, about an hour.
Divide dough into three equal pieces and shape each into a 14-inch rope. Place a sheet of parchment on a rimless baking sheet. Flour it and evenly space dough ropes on it.
We'll create a support system for the loaves, so they rise up instead of flattening out. Pinch parchment paper between each loaf, making a pleat. Tightly roll dishtowels and snuggle them against the outside of the two outer loaves (with the paper edge between the towel and dough) to support the long edges of the loaves and keep them from flattening out (picture above). Loosely cover with greased plastic wrap and let rise another hour.
Preheat oven to 475 degrees. Put an upside-down rimmed baking sheet on the middle rack. Place a cast-iron skillet on the bottom rack (picture above).
When ready to bake, remove dishtowels and pull the parchment paper flat. Use a sharp paring knife or scissors to make four diagonal cuts across the top of each loaf. Transfer the parchment paper and loaves onto the heated baking sheet. Pour ice cubes into the skillet and close the oven (this will create steam that will allow the bread to completely rise before forming a crust.)
Bake until deep golden-brown, 20 to 30 minutes.
Adapted from JS Online
Diet Deep Dish http://dietdeepdish.com/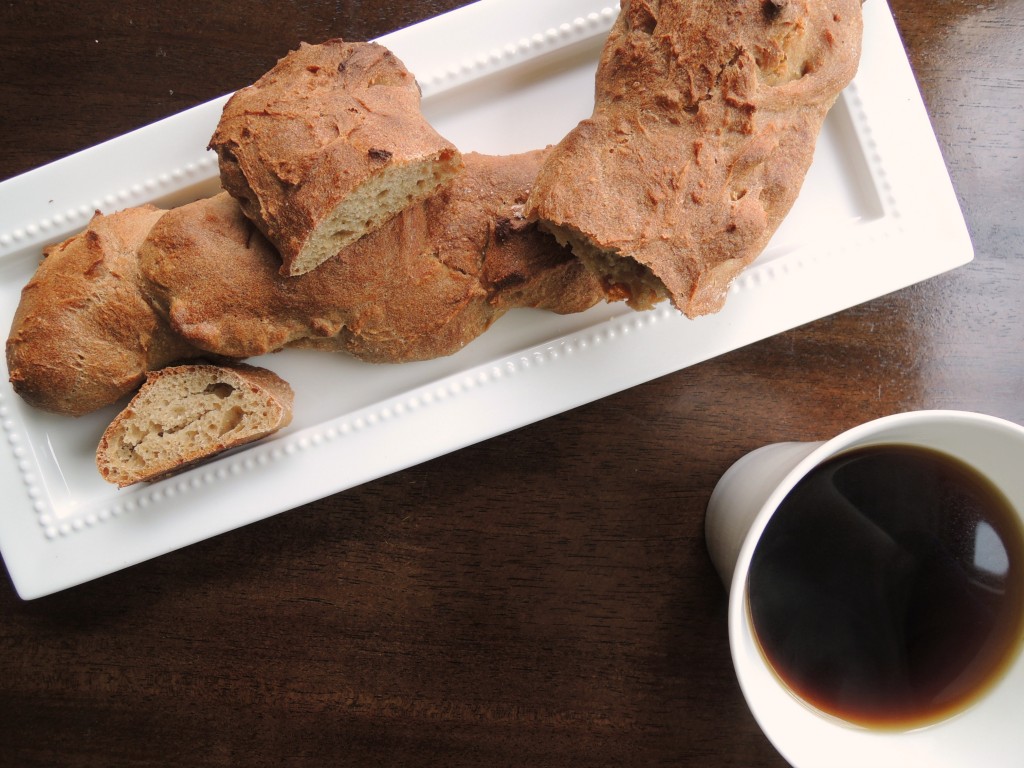 For more fashion inspiration, follow Emily's blog at Isn't That Charming… and while you're there, wish her a very happy WEDDING day tomorrow! Congratulations Emily!!