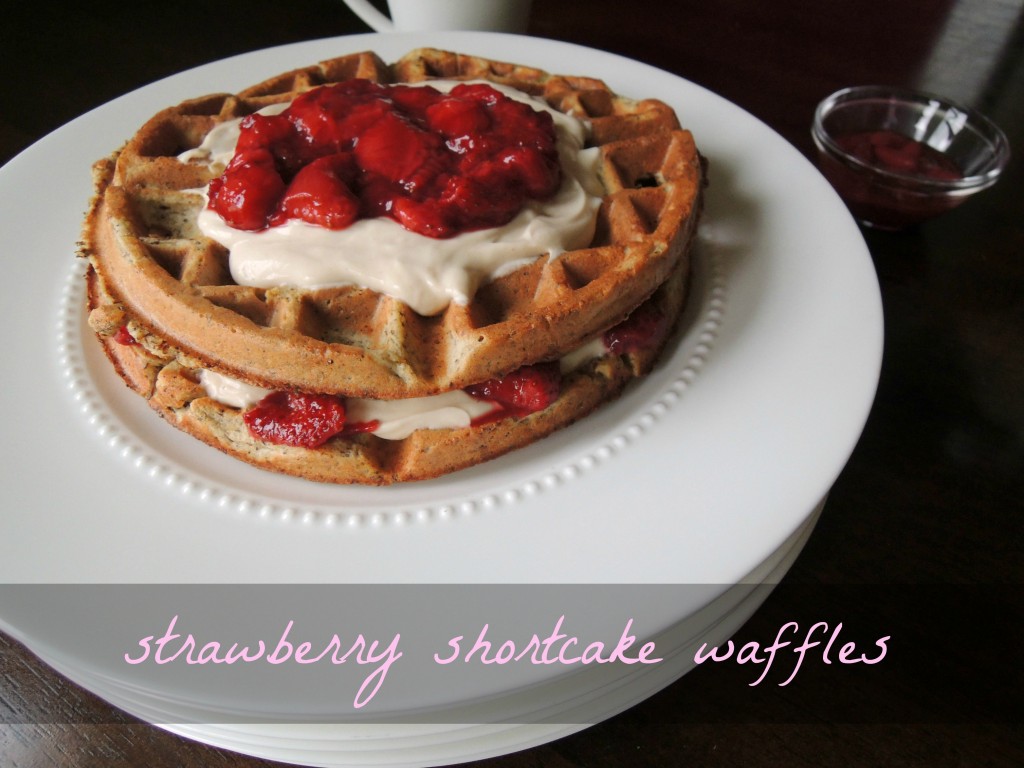 A special day deserves a special breakfast, and I would consider turning 2 to be an incredibly special day! If you've been following my Instagram, you know that Charlotte turned 2 this week, and since I was not scheduled to work any shifts at the hospital (financial bummer, but summer fun win), we've been able to celebrate all week! Our days have been filled with bike rides, Elmo cake and beach days. Oh, and strawberry shortcake waffles! These waffles are fluffy & rich, while providing enough fiber and protein to keep you going all morning! Instead of cream, we used Greek yogurt mixed with peanut butter, so you still get the thick, creamy taste without the extra fat. I mixed the strawberries with just a small amount of Agave syrup and lemon juice for a sweet and syrupy topping.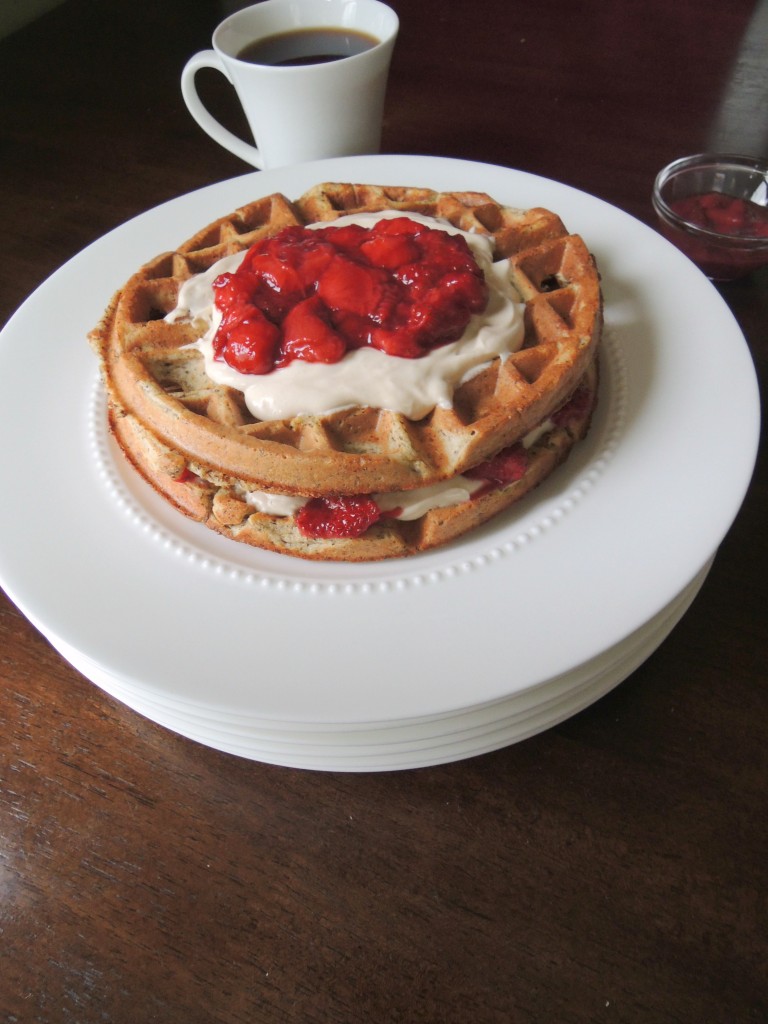 These waffles came at the perfect time, because this week's Fashion Friday feature is Valerie of The Style Files. When I saw how versatile her Pink Blazer post was, I started thinking about making a light and sweet topping that could also be versatile. I chose strawberry syrup, because it's great on waffles and pancakes, but would also be fantastic over grilled chicken or pork chops! Because I wanted to incorporate the syrup into a birthday breakfast, strawberry shortcake waffles seemed like the perfect celebratory meal for a sweet little girl!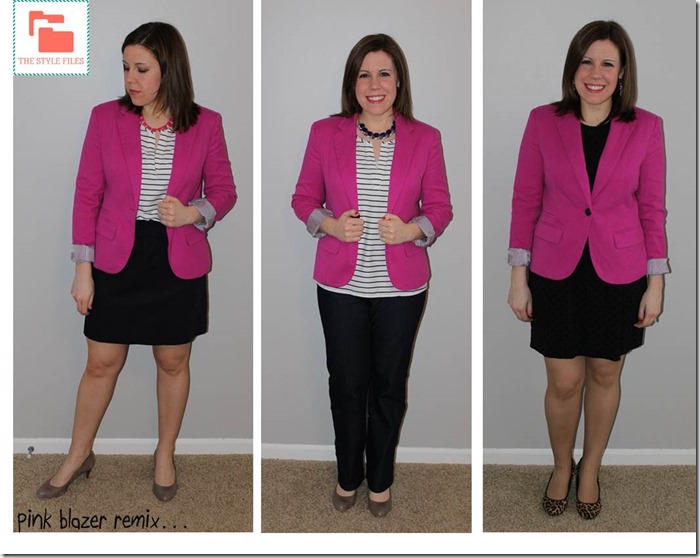 By using mashed banana and applesauce, we're able to cut down on the butter and eggs in the recipe. These waffles have a banana bread flavor, and are also great alone or with a little maple syrup.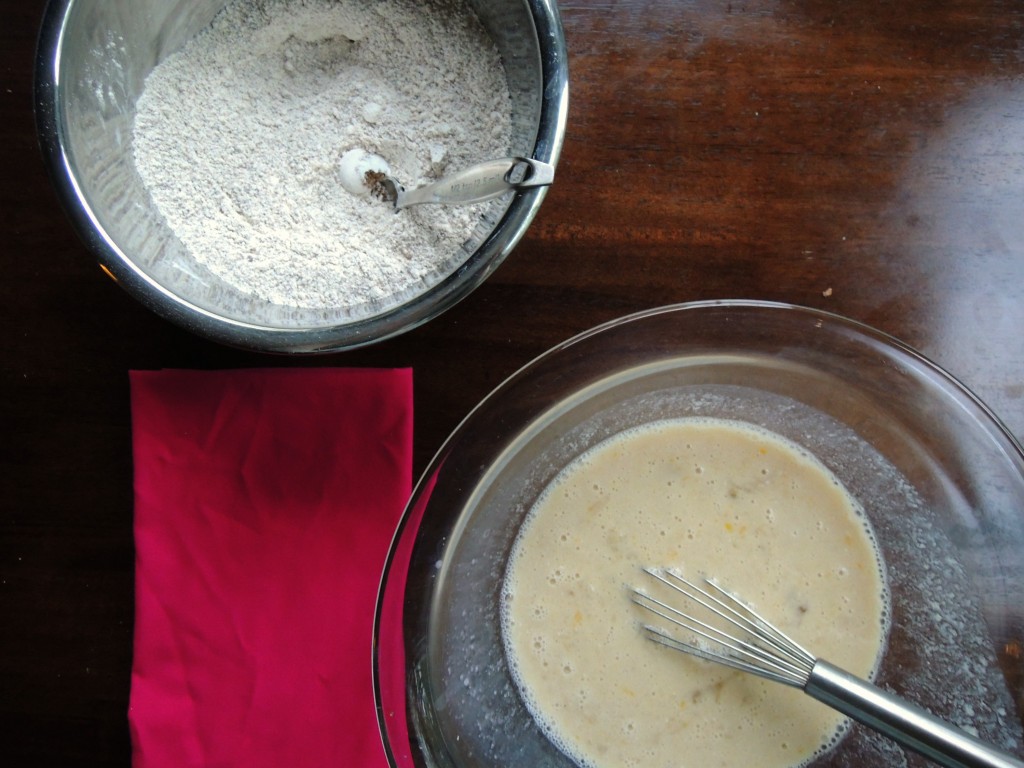 This recipe makes 6 large waffles and enough "cream" and strawberry syrup for a dollop of each on each waffle. If you'd like more topping or plan to layer the waffles with strawberries and cream in between, I'd double the cream and strawberry syrup recipes. Enjoy!
Strawberry Shortcake Waffles
2014-06-13 13:01:20
For the waffles
1 ½ cups whole wheat pastry flour
½ cup ground flaxseed
2 tbsp. loosely packed brown sugar
1 ½ tsp. baking powder
½ tsp. cinnamon
¼ tsp. salt
1 ½ unsweetened almond milk (or milk of choice)
3 tbsp. unsweetened applesauce
2 large eggs, lightly beaten
1 large ripe banana, mashed
For the toppings
1 pint strawberries, sliced
2 tbsp. agave syrup (or sweetener of choice)
1 tbsp. lemon juice
1 ½ cups plain nonfat Greek yogurt
2 tbsp. natural peanut butter
1 tsp. vanilla extract
Light sprinkle of stevia (or sweetener of choice) to taste
For the waffles
In a medium bowl, whisk together the dry ingredients. In a separate bowl, whisk together the wet ingredients.
Slowly pour the wet ingredients into the flour mixture, stirring until combined.
Preheat your waffle iron and coat with cooking spray.
Spoon batter onto hot waffle iron, spreading batter to the edges.
Cook 3-5 minutes per waffle, until steaming stops.
Top each waffle with a spoonful of Greek yogurt "cream" & strawberry syrup and enjoy!
For the toppings
Combine the sliced strawberries, agave syrup and lemon juice in a nonstick skillet. Cook over medium heat until mixture is bubbly. Turn to low heat and simmer until sauce thickens, about 15 minutes. Keep warm until ready to serve.
Combine the Greek yogurt, peanut butter, vanilla and stevia in a small bowl. Keep cool until ready to use.
Adapted from Cooking Light
Diet Deep Dish http://dietdeepdish.com/
For more fashion inspiration, follow Valerie at…