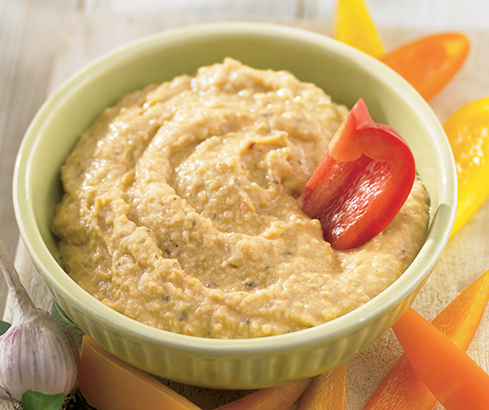 Hi there! I'm in my kitchen unpacking from my TV appearance today. I had the chance to share 2 of my favorite Spring recipes perfect for next weekend. My favorite part of these recipes is that they can be prepared the day or 2 before Easter, so you have more time to enjoy family and friends all day.
As always, email subscribers received these recipes first, so be sure to sign-up for the latest updates and your FREE ecookbook!
Roasted Red Pepper Deviled Eggs
2015-03-29 08:56:22
Ingredients
1 red bell pepper
1 tsp. extra virgin olive oil or oil of choice
6 hard boiled eggs, cooled and peeled
1/2 cup red pepper hummus
Instructions
Coat red pepper with olive oil and place on a baking sheet; sprinkle with salt and pepper.
Preheat oven to 450 degrees F and roast for 25 minutes, until skin becomes wrinkled. Once cool enough to handle, peel off skin and cut out core. Cut red pepper into thin slices and set aside.
Slice the eggs in half lengthwise. Place 3 of the egg yolks in a medium bowl. Discard the other 3 yolks.
Add the hummus to the bowl and mash with a fork. Scoop a heaping teaspoon of the hummus-egg mixture into each egg half.
Top with 2 small red pepper strips and serve.
Diet Deep Dish http://dietdeepdish.com/
When choosing hummus, feel free to use any flavor you like - garlic, olive, etc. If you'd like to make your own, try my favorite
red pepper hummus mix
.
Chocolate Peanut Butter Eggs
2015-03-29 08:58:52
Ingredients
15 pitted Medjool dates, soaked in water
1/2 cup natural peanut butter
1 cup dark chocolate chips
Instructions
Drain the dates and place in a food processor or blender. Pulse until a thick paste forms.
Add the peanut butter and pulse until combined. Scoop out a heaping tablespoon and form into an egg shape. Place on a parchment paper-lined baking sheet and repeat with remaining mixture (makes about 12 eggs).
Place eggs in the freezer for at least 1 hour to harden.
Place the chocolate chips in a microwave-safe bowl and microwave in 30 second increments until melted, stirring frequently.
Gently dip each egg into melted chocolate, allowing excess to drip off. Place each egg back on the parchment paper and keep chilled until ready to serve.
Diet Deep Dish http://dietdeepdish.com/
To download a full Easter brunch menu, check out my Springtime Celebrations Collection here!
Have you signed up for your free ebook yet?