This white sausage pizza feels like a comforting winter dinner, but is light enough to transition into spring!  The white sauce is made from sautéed leeks, roasted garlic and creamy goat cheese - it is incredible!  We then pile on turkey sausage cooked with the leek greens and finish with a lightly sweet honey balsamic glaze.
Today I'm very excited to feature Katelyn of Katalina Girl for this week's Fashion Friday.  Katelyn is not only a fashion blogger, but also the E-commerce editor of Divine Caroline, freelance stylist, writer for Juice Magazine, Director of social media for Go Blog Social and co-founder of Midwest Bloggers!  I absolutely love this white outfit from her Hello post.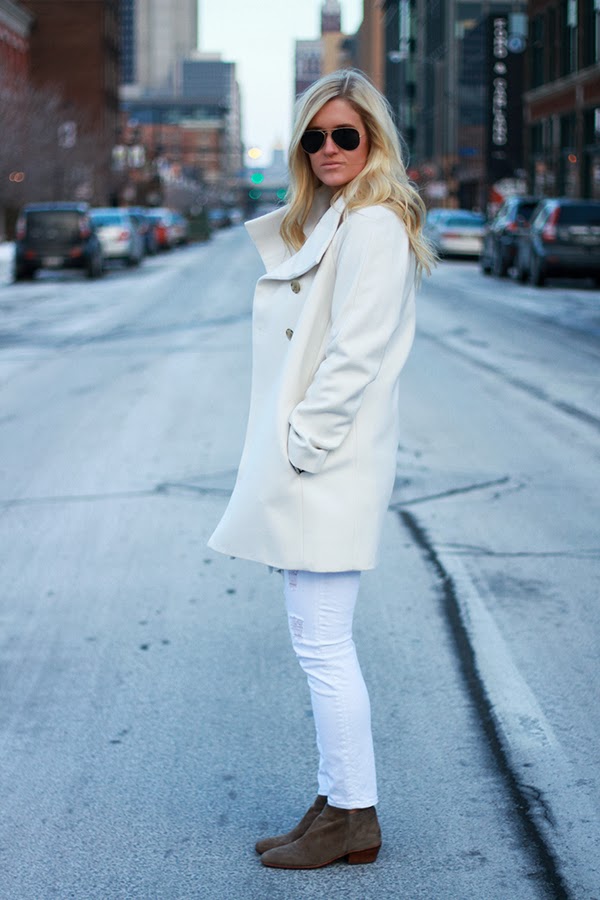 This look struck me as laid back, yet sophisticated, so I started with the perfect food for a casual get-together with friends and upgraded it into something special.
When preparing the leek, separate the white and green parts, as they cook at different speeds.  The greens stand up to high heat better, so need to be cooked longer.
To keep this recipe quick and simple, I opted for store-bought whole wheat pizza dough from Trader Joe's.  For the glaze, any good quality balsamic vinegar would work, but I just love the flavored ones from Fat Louie's Olive Oil Company.  The light cinnamon pear flavor was perfect with the creamy goat cheese sauce.
Recipe: White Sausage Pizza with Honey Balsamic Glaze
Summary: This whole wheat pizza crust is topped with a creamy garlic leek sauce and savory turkey sausage, then drizzled with a sweet honey balsamic glaze!
Ingredients
1 lb. whole wheat pizza dough
1 head of garlic
1 leek
4 tbsp. extra virgin olive oil, divided
1/4 cup low-sodium chicken broth
1 tsp. dried parsley
4 oz. goat cheese
1 lb. ground turkey
1 tbsp. dried oregano
1 tsp. garlic salt
1 tsp. red pepper
1/2 cup balsamic vinegar
1/4 cup honey
Instructions
Remove the pizza dough from the refrigerator and allow to rest at room temperature.
Preheat the oven to 400 degrees F. Peel away the outer layers of the garlic bulb, leaving the skins of the individual cloves intact. Cut 1/2 inch of the top of cloves, exposing the individual cloves of garlic. Place the garlic in a baking pan and drizzle 1 tbsp. of olive oil over the head. Cover with aluminum foil and bake at 400 degrees F for 30-35 minutes, or until the cloves feel soft. Set aside. Reduce oven temperature to 350 degrees F.
Slice off the leek greens and set aside. Cut the white part into quarters. Heat the olive oil in a medium sauce pan and add the chopped leek white. Cook until slightly browned, about 10 minutes. Add the chicken broth and parsley and bring to a boil.
Place the leek mixture into a food processor. When the garlic head is cool enough to handle, squeeze the cloves into the food processor. Add the goat cheese to the food processor and pulse until smooth. Set sauce aside.
Taking about half of the leek greens, chop them into thin strips. Discard the other half or save for stock.
Heat 1 tbsp. olive oil in a medium saucepan. Add the chopped leek greens and cook for about 5 minutes.  Then add the ground turkey, oregano, garlic salt and red pepper. Saute until cooked through, drain and set aside.
On a lightly floured surface, roll the pizza dough into a circle. Transfer to a pizza pan, drizzle the dough with 1 tbsp. olive oil and bake at 350 degrees F for 10 minutes.
Remove dough from oven, spread with leek sauce and top with sausage mixture. Bake for an additional 5 minutes, until the crust is golden brown.
While the pizza is baking, prepare the honey balsamic glaze. Stir together the balsamic vinegar and honey in a small saucepan and heat over medium heat until thickened, about 10 minutes.
Remove the pizza from the oven and drizzle with honey balsamic glaze. Enjoy!
Preparation time: 30 minute(s)
Cooking time: 15 minute(s)
Number of servings (yield): 4
For more style inspiration, follow Katelyn on…
Are you a fashion blogger?  If you'd like your blog featured on
Diet Deep Dish
Fashion Fridays, send me a message at
[email protected]
.  Looking forward to working with you!