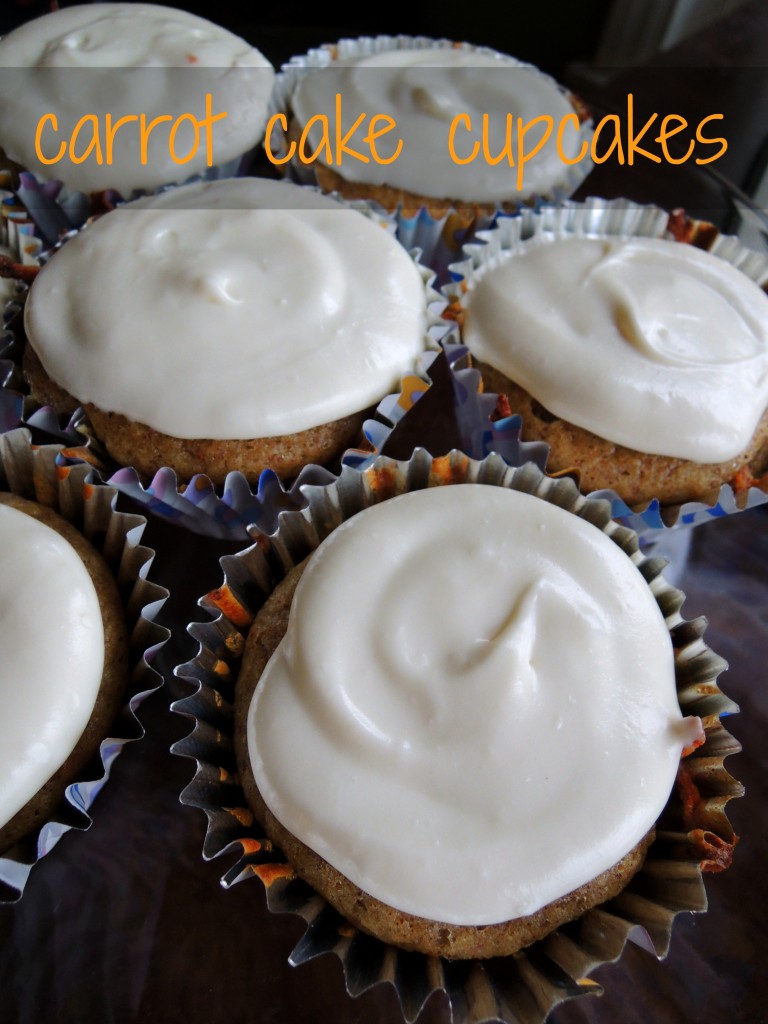 These carrot cake cupcakes are light, airy and delicious - the perfect end to Easter dinner or brunch!  I was inspired to make these after seeing Katherine and Sophie from Georgetown Cupcake share the recipe on the Bethenny show.  I made a few minor adjustments - substituted whole wheat for some of the white flour, added raisins, used butter substitute for the frosting.  The result was a perfectly sweet and fresh carrot cake, glazed with an indulgent cream cheese frosting.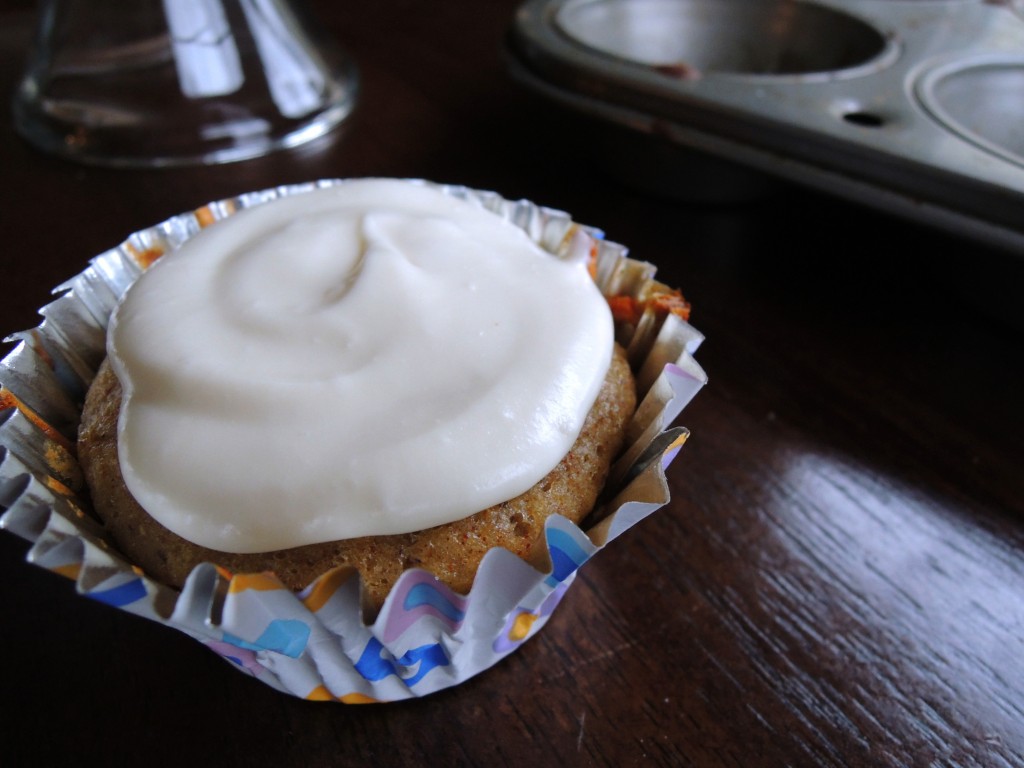 To achieve the Georgetown Cupcake "signature swirl" scoop the frosting into a Ziploc bag and cut a small hole in one of the corners.  Squeezing any air out and holding the bag very close to the cupcake, gently squeeze the bag starting on the outside of the cupcake.  Swirl the frosting into the center, gently press down and pull up.
Adapted from Georgetown Cupcake
Ingredients
1/2 cup all-purpose flour
1/4 cup whole wheat (or flour of choice)
1 1/2 tsp baking powder
1 tsp ground cinnamon
1/4 tsp salt
4 tbsp all-natural unsweetened applesauce
1/4 cup honey
2 small eggs, brought to room temp
1/4 cup warm water
1 cup shredded carrots
1/4 cup raisins
For the Frosting:
1 tbsp Earth Balance spread (or butter)
4 tbsp fat-free cream cheese
3/4 cup confectioner¹s sugar
1/4 tsp pure vanilla extract
Instructions
Mix together all dry ingredients and set aside.
Mix together the applesauce and honey using a stand mixer on medium speed. Beat eggs, and add them to mixer on low speed.
Add half of the dry ingredients followed by half of the water to stand mixer on low speed. Add remaining dry ingredients and water and mix slowly. Add in shredded carrots.
Scoop all of the batter into each baking cup so that each baking cup is equally full.
Bake at 350° F for 20 minutes, or until a toothpick inserted into the cupcakes comes out clean.
For the frosting, place butter substitute, non-fat cream cheese, confectioner's sugar and vanilla extract in stand mixer, and mix together for 3-5 minutes, until frosting is light and airy.
Scoop frosting into a Ziploc bag, cut a small hole at the corner and pipe the frosting onto each cupcake. Enjoy!
Preparation time: 20 minute(s)
Cooking time: 20 minute(s)
Number of servings (yield): 10