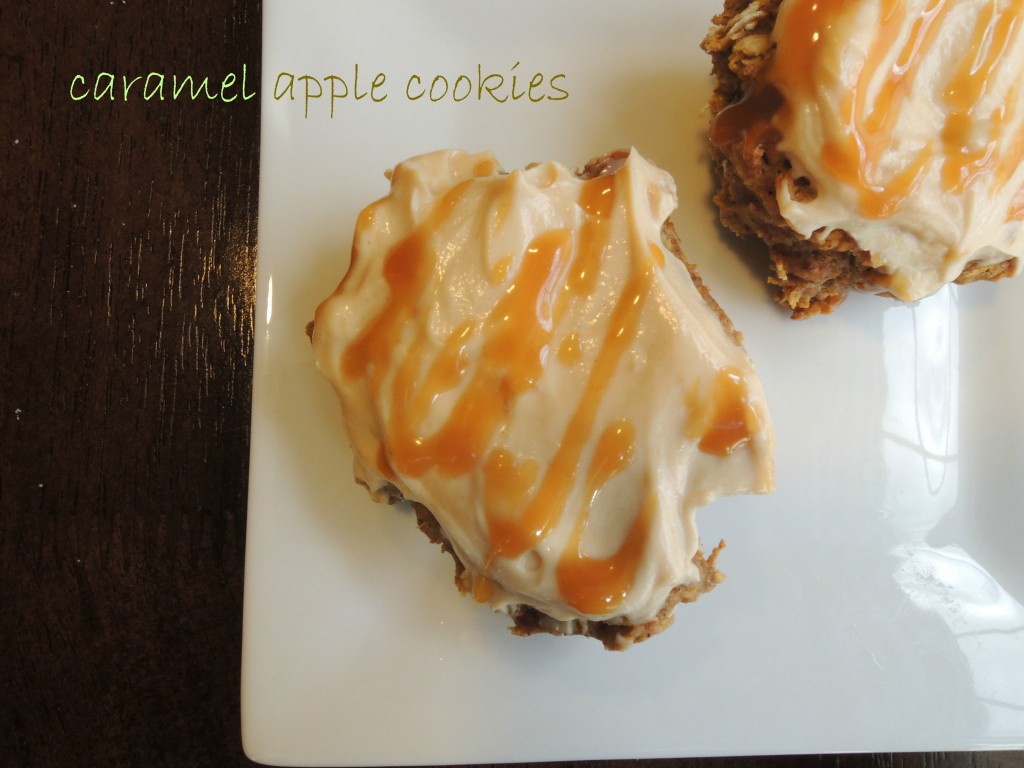 Happy Fall!  I'm so excited to share this recipe.  The cookies have more of a bread consistency, and using Greek yogurt for the frosting gives them just the right amount of sweetness.
Be sure to give yourself plenty of time - the dough needed to sit in the refrigerator for almost 2 hours before it was firm enough bake.
Caramel Apple Cookies
Adapted from Iowa Girl Eats
Yields 24 cookies
Ingredients
3 tbsp butter, brought to room temp
1 cup applesauce
1 packet powdered stevia
1/4 cup brown sugar
1 ripe banana, mashed
1 cup whole wheat pastry flour
1 1/4 tsp cinnamon
1/2 tsp apple pie spice
1/2 tsp baking powder
1/2 tsp baking soda
1/4 tsp salt
Frosting
6 oz fat-free vanilla Greek yogurt
2 tbsp natural peanut butter
1tbsp caramel sauce + extra for drizzling
Preparation
 Beat together the butter, applesauce and sugars for 1 minute.   Add the mashed banana and beat until combined.
In a separate bowl, sift together the flour, spices, baking powder, baking soda and salt. Slowly add the dry ingredients to the wet, mixing until combined.  Cover the bowl and place in the refrigerator until dough is firm enough to bake, about 2 hours.
Preheat the oven to 350 degrees. Drop dough in heaping tablespoons onto a parchment paper lined baking sheet and bake for 12 minutes or until set on top. Allow the cookies to rest for 5 minutes before moving to a cooling rack.
For the frosting, beat together the yogurt, peanut butter and caramel until combined. Once completely cooled, frost the cookies and drizzle with caramel.