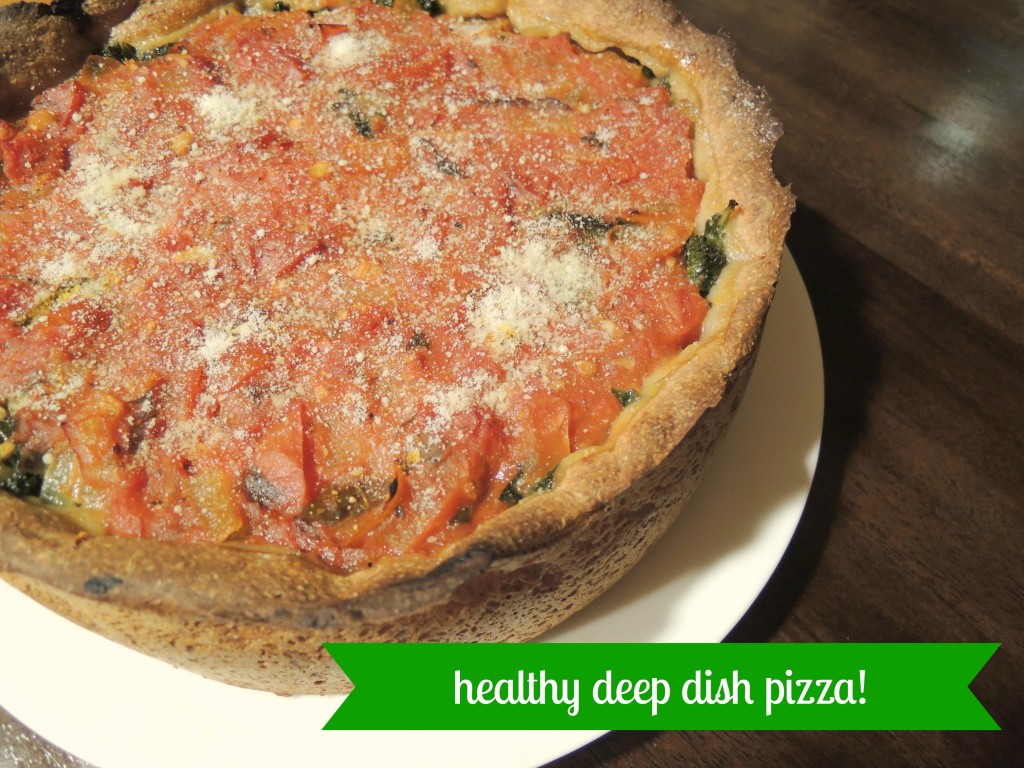 Here it is… the inspiration for this entire blog… Chicago-style pizza!  I don't just love deep dish pizza - I need it.  I knew I had a problem when I once spent an entire yoga class imagining Lou Malnati's spinach pizza.  I could smell it, taste the buttery crust.  I spent the majority of the 60 minute class trying to "come back to my breath," but eventually just gave in and let that delicious pizza take over.
Chicago-style pizza is what I have always requested for every birthday and special occasion.  I also ate it more times than I'd like to admit during my pregnancy (what can I say - Charlotte wanted it!)  With this in mind, I set out to create a healthier version, while still staying true to the pizza.
My goal was to develop a deep dish pizza that is still delicious, but at least a little lighter.  I've substituted cauliflower puree for half the cheese and added kale.  I also used whole wheat flour for the crust.  This was wonderful, still rich and comforting, but didn't feel as heavy.  I think next time I will add some turkey sausage for more flavor.
WARNING: This is not a weeknight meal.  This is more of a "I have all day Sunday free and feel like cooking" meal.  It was pretty time-consuming, but worth it!  I hope you enjoy!
Healthy Deep Dish Pizza
Ingredients
Pizza dough (see below)
Cauliflower "cheese" (see below)
1 tbsp extra virgin olive oil
1 tbsp chopped fresh garlic
1 tbsp chopped fresh basil
1 tsp chopped fresh oregano
1/2 tsp salt
1/4 tsp black pepper
1/4 tsp red pepper flakes
4 plum tomatoes, chopped
1/4 tsp sugar
1/2 pound part-skim shredded mozzarella cheese
1/2 bunch kale
1/2 cup chopped onion
1 tsp extra virgin olive oil
2 tbsp grated Parmesan
Preparation
Make the pizza dough (recipe below).  This recipe is enough for 2 pizzas.  I made 1 pizza and froze the other half of the dough.
While the dough is rising, make the cauliflower sauce (see below).
Next make the tomato sauce.  In a medium sauce pan, heat the oil over medium heat.  Add the garlic and cook for 30 seconds.  Add the herbs, salt, black and red pepper and cook, stirring, for another 30 seconds.  Add the tomatoes and sugar, bring to a boil, then lower the heat and simmer, stirring occasionally, until thickened, about 30 minutes.
In another pan, heat 1 tsp olive oil and saute onion until translucent, about 5 minutes.  Add the kale and saute until wilted, about 5 minutes.  Set aside.
After pressing the dough into an oiled pan, pour in the cauliflower sauce.  Next add the mozzarella cheese, kale and finally tomato sauce.  Sprinkle with the Parmesan.
Bake at 475 degrees F until the cheese is bubbly and the crust is golden brown, about 30 minutes.
Remove from oven and let rest for 5 minutes.  Slice and serve hot.  Congratulations!  I know that was labor-intensive, but I promise it's worth it!  Enjoy!
Pizza Dough
1 1/2 cups warm water
1 (1/4-ounce) package active dry yeast
1 tsp sugar
3 1/2 cups whole wheat flour
1/2 cup all-purpose flour
1/2 cup vegetable oil
1 tsp salt
In a large bowl, combine the water, yeast, and sugar and stir to combine.  Let sit until the mixture is foamy, about 5 minutes.
Add 1 1/2 cups of the whole wheat flour, 1/2 cup all-purpose flour, 1/2 cup oil and salt, mixing by hand until it is all incorporated and the mixture is smooth.
Continue adding the flour, 1/4 cup at a time, working the dough after each addition, until all the flour is incorporated but the dough is still slightly sticky.
Turn the dough out onto a lightly floured surface and knead until smooth, but still slightly sticky, 3-5 minutes.  Oil a remaining mixing bowl with 2 tsp oil and place dough in bowl, turning to cover all sides.  Cover the bowl with plastic wrap and set in a warm, draft-free place until nearly doubled in size, about 1 1/2 hours.  Divide into 2 equal portions.  Freeze one portion and press the other into an oiled 12-inch spring board pan, pressing to the edge and stretching about 1 1/2 inches up the sides.  Let rest for 5 minutes.
Cauliflower "cheese"
1 head of garlic
1 tsp extra virgin olive oil
6 cups water
5-6 cups cauliflower florets
1 tsp salt
1 tsp pepper
1/2 cup milk
Preheat the oven to 400 degrees F.  Peel away the outer layers of the garlic bulb, leaving the skins of the individual cloves intact.  Cut 1/2 inch of the top of cloves, exposing the individual cloves of garlic.
Place the garlic in a baking pan and drizzle 1 tsp of olive oil over the head.  Cover with aluminum foil and bake at 400 degrees F for 30-35 minutes, or until the cloves feel soft.
When the garlic is cool enough to handle, squeeze out the cloves with your fingers into a food processor or blender.
Bring the water to a boil to a boil in a large pot.  Add the cauliflower and cook, covered, for 8-10 minutes or until cauliflower is tender.
Use a slotted spoon to transfer the cauliflower to the food processor with the garlic. Add the salt, pepper and milk and puree for several minutes or until the sauce is very smooth.