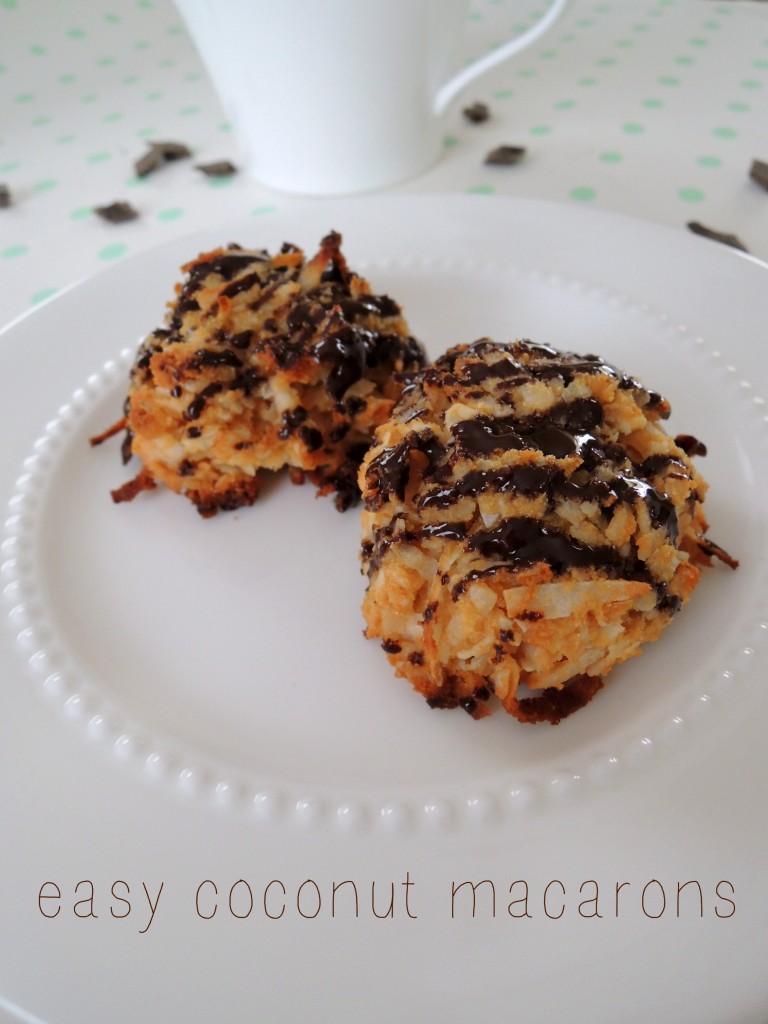 It seems like everywhere you look, macarons are the "it" dessert - the grocery store, every Pinterest board, even my new Healthy Surprise snack box (review coming soon)!  Macarons will always hold a special place in my heart.  One year ago, Tim and I made the somewhat-scary decision for me to go part-time at work, which has been the absolute best thing I have every done.  On my first official day home I actually made a list of everything I was going to accomplish that day, including whipping up a batch of fresh macarons.
I had visions of Charlotte and me leisurely exploring the city, strolling through the art museum, grabbing lunch at a café, organizing the entire house, refinishing a dresser and baking all afternoon.  Well, by the end of the day the house was a disaster, Charlotte had watched an embarrassing amount of Doc McStuffins and that dresser?  Oh, it's still waiting to be primed, but I'm sure I'll finish it soon

  The ONE thing I did accomplish though was baking the macarons - a light and airy cookie, perfect for celebrating!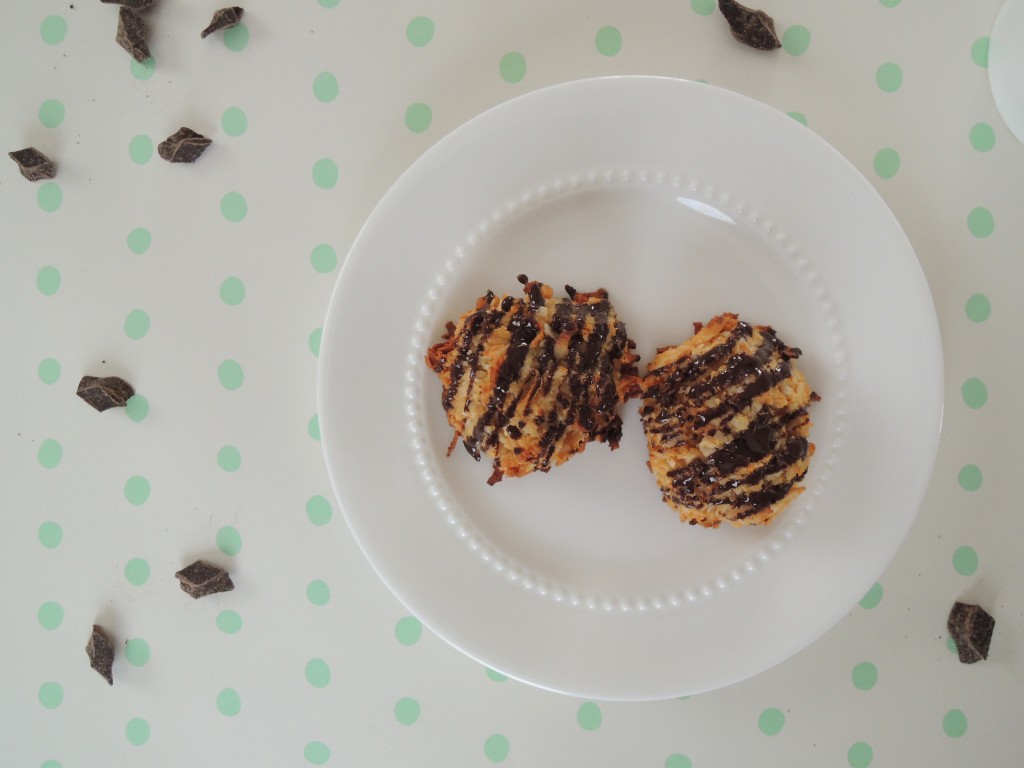 Today's recipe was inspired by Samantha of The Brunette One and her Graphic Tee look.  Each Friday I feature a fashion blogger and develop a recipe inspired by her look.  I was immediately drawn to this blog because of the name

but there is so much more to love.  Samantha always creates a classically chic look with unique, affordable pieces.  In addition to running the blog, Samantha works as a merchandise buyer, freelance stylist, contributor to Juice Magazine & Divine Caroline, Director of Communications for Go Blog Social, co-founder of Midwest Bloggers and co-founder of StyleEsque!
I cannot stop looking at this Lush skirt.  I love everything about it - the midi length, the flair, the sheer panel.  It is so delicate and light, which made me think of macarons right away!
I think the most important thing to remember with macarons is to make sure your egg whites are room temperature before whisking them - that is what keeps them so light and fluffy.  I used coconut flour in this recipe, but almond flour would work as well.
My original vision was to make blonde macarons, and then it occurred to me that macarons inspired by the BRUNETTE one should have a little color, a little chocolate, and that was exactly what they needed!  Mixing a small amount of dark chocolate chips with coconut oil brought together the perfect glaze for these delicate little cookies.
Recipe: Easy Coconut Macarons
Summary: A light and easy version of the delicate French favorite!
Ingredients
6 tbsp. liquid egg whites
1/4 cup agave nectar
1/4 cup pure maple syrup
1 tsp. vanilla extract
1/2 cup coconut flour
4 cups unsweetened shredded coconut
For the chocolate glaze:
4 heaping tbsp. semisweet chocolate chips
1-2 tsp. coconut oil (enough the make the mixture thin enough to drizzle over the cookies)
Instructions
Pour the liquid egg whites into a large mixing bowl and allow to sit until egg whites are room temperature.  Then add the agave nectar, maple syrup and vanilla and whisk vigorously until the mixture is frothy and glossy.
Fold in the coconut flour and shredded coconut.  Drop about 20 heaping tablespoons onto a greased cookie sheet and bake at 325 degrees F for 25 minutes, until golden.
Meanwhile, prepare the chocolate sauce.  Pour the chocolate chips and coconut oil into a microwave-safe mug and microwave on high in 10-second intervals until melted.  Stir and drizzle over baked macarons.  Enjoy!
Preparation time: 20 minutes
Cooking time: 25 minutes
Servings: Yields 20 cookies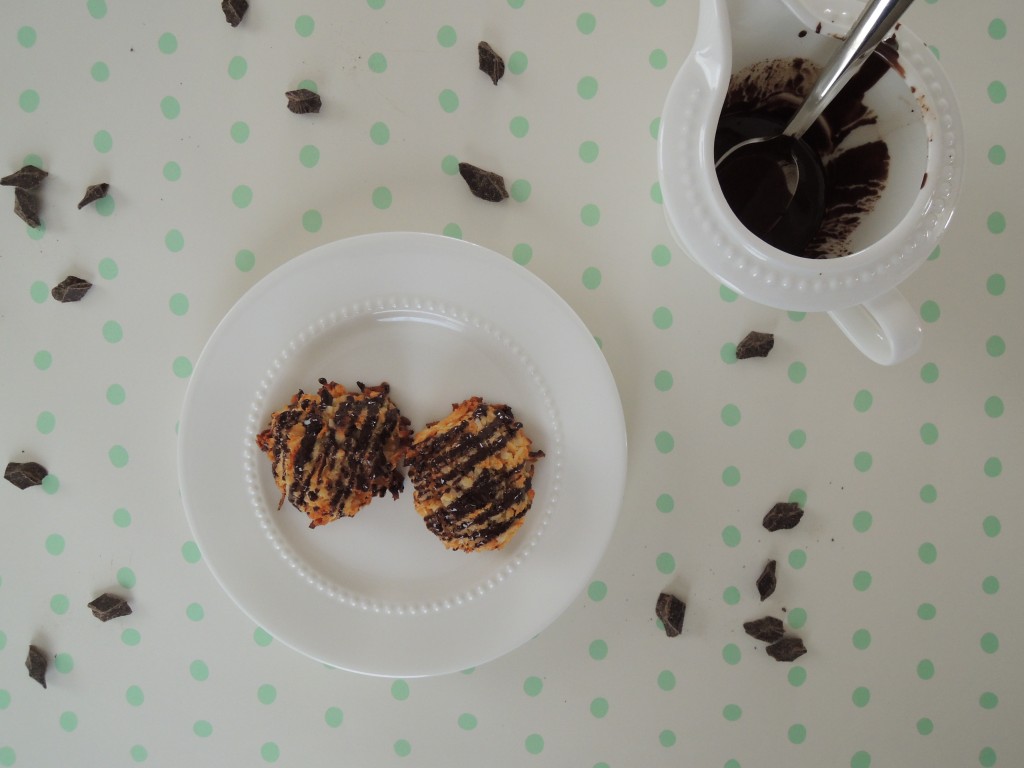 For more fashion inspiration, follow Sam on…
Are you a fashion blogger?  If you'd like your blog featured on Diet Deep Dish Fashion Fridays, send me a message at [email protected].  Looking forward to working with you!