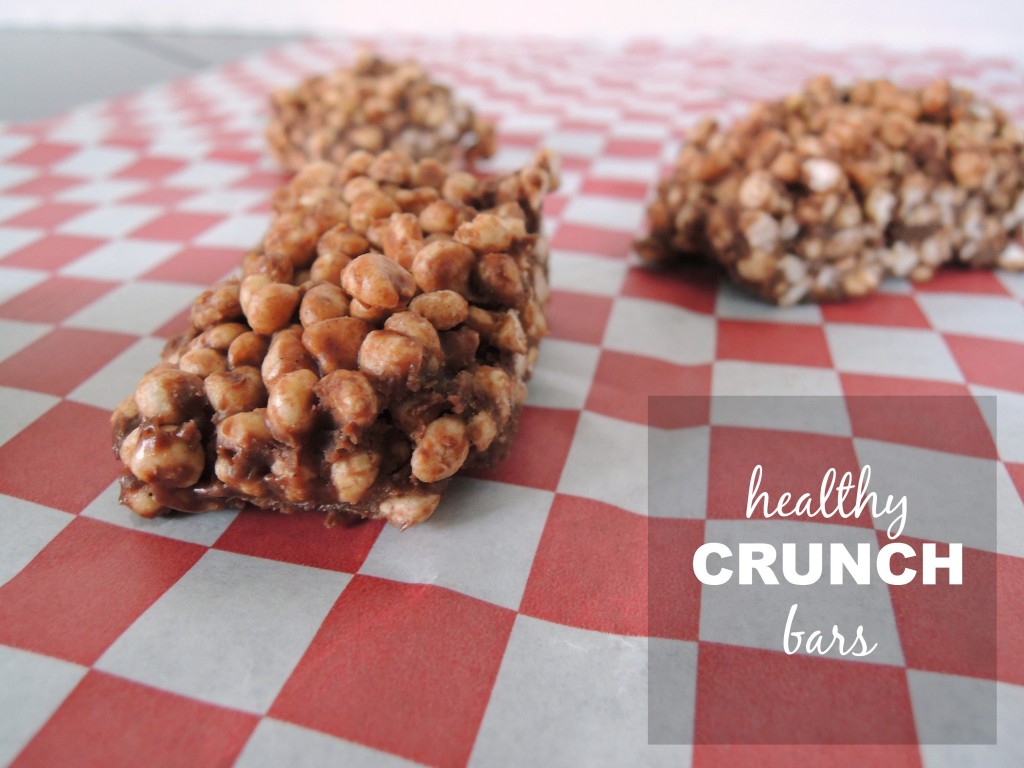 These crunch bars are made from 100% real, natural ingredients and could not be easier to whip up. They look like the original, but are fresh, bursting with peanut buttery flavor and only contain 3 ingredients!
About 2 weeks ago, Peanut Butter & Co sent me a package of 4 jars of the most incredible peanut butter to review. I am not exaggerating when I say incredible. It's actually kind of amazing that we had enough left to use in a recipe. At the end of this recipe, you'll find my review and pairing ideas…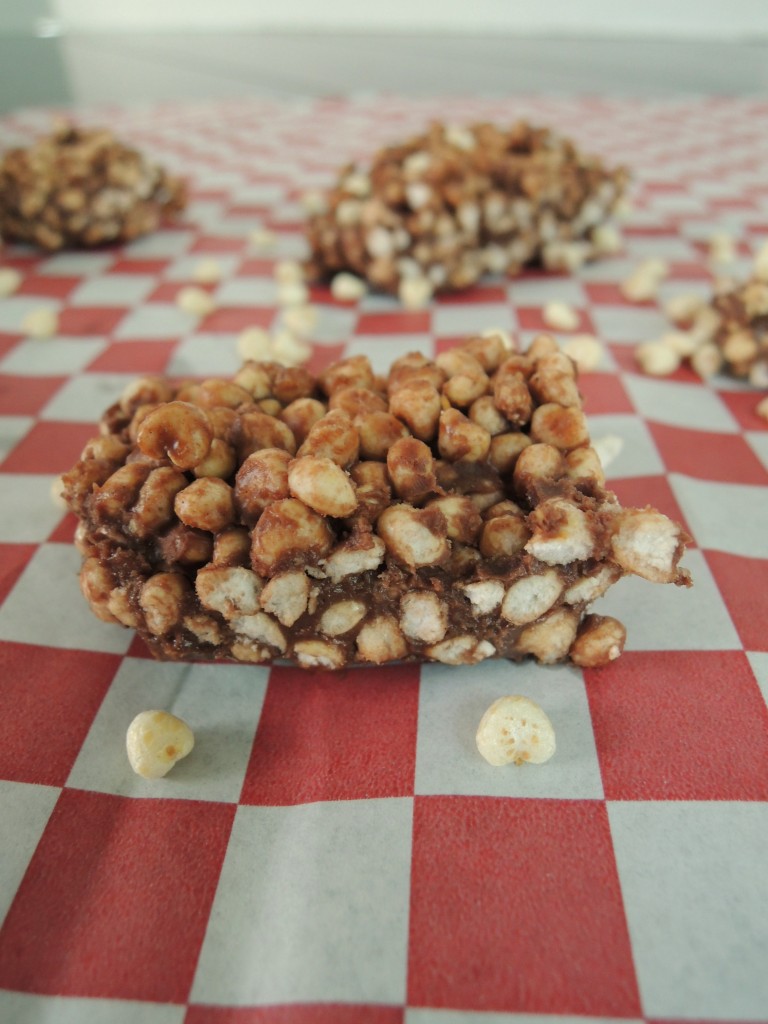 This month, our theme for the Recipe Redux was Bars and Bites…
Bars & Bites for Brown Bags
Whether you pack your lunch in a bento box, a brown bag or a retro cartoon character lunch box, don't forget the bars and bites. Small squares or round bites can pack nutrition into a sweet or savory taste. Show us your favorite way to jazz up any type of lunch box.
This seemed like the perfect opportunity to use the (little remaining) peanut butter in a sweet recipe. As I searched the cabinets for ideas, I came across the giant bag of puffed millet that had seemed like a no-brainer at Whole Foods, but I had no clue what to do with. I think puffed millet has a slightly bitter taste, but the dark chocolate peanut butter totally overpowered it. Just add a little coconut oil to keep them firm and voila! Easy, healthy, tasty candy bars!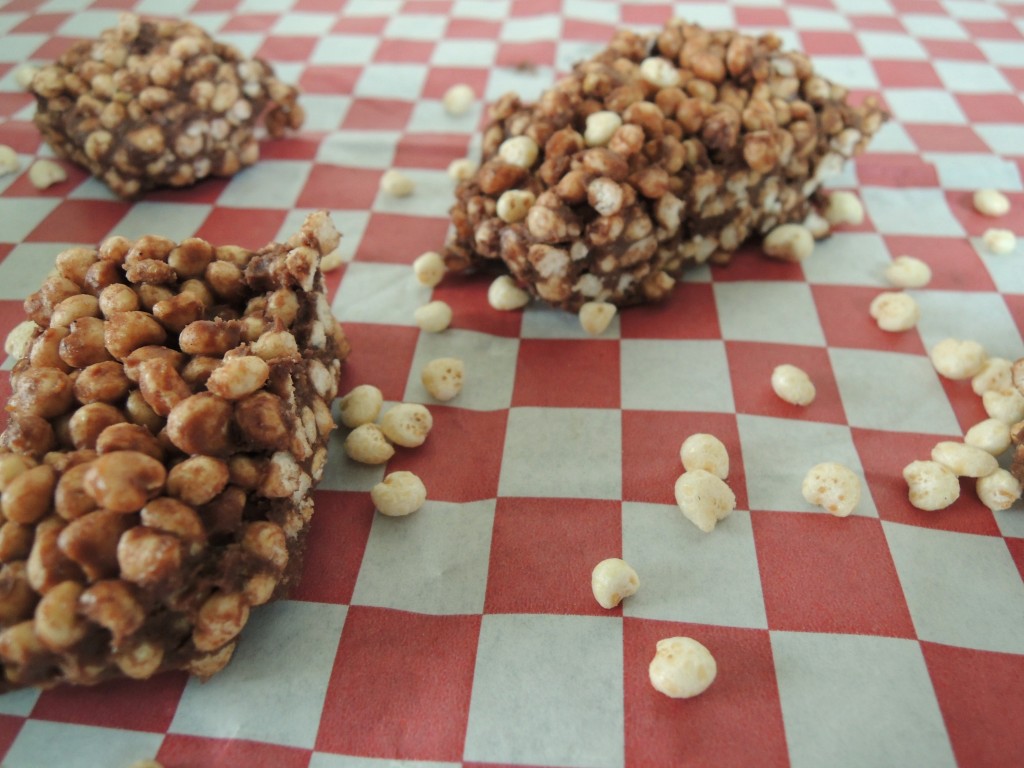 Healthy Crunch Bars
2014-08-20 10:05:20
Ingredients
2 cups puffed millet
1/2 cup dark chocolate peanut butter (or peanut butter of choice)
1/4 cup coconut oil
Instructions
Over low heat, melt the peanut butter and coconut oil together.
Pour the puffed millet in a greased 8x8 in. pan and pour the melted peanut butter mixture over it. Stir well and place in the refrigerator to harden. Enjoy!
Notes
This recipe can easily be adapted for unflavored peanut butter as well. When melting the peanut butter and coconut oil together, stir in 2 tbsp. dark chocolate chips.
These bars can become pretty soft at room temperature, so be sure to store in the refrigerator.
Adapted from My Purple Spoon
Diet Deep Dish http://dietdeepdish.com/
Peanut Butter & Co was generous enough to send me the following peanut butter flavors…
Cinnamon Raisin – By far my favorite! My go-to breakfast these past couple weeks have been half of a whole wheat pita filled with cinnamon raisin peanut butter and sliced banana.
White Chocolate Wonderful – Delicious, but a little too sweet for breakfast. This one is great for dipping – graham crackers, dark chocolate, strawberries.
Dark Chocolate Dreams – A perfect blend of peanut butter and chocolate! Mix one tablespoon with 1/2 cup plain nonfat Greek yogurt for a sweet and satisfying snack.
The Bee's Knees (Honey-flavored) – Very good, but just not as exciting as the others. I use this one as I would any other peanut butter, and having the hint of honey is great mixed into a bowl of oatmeal.