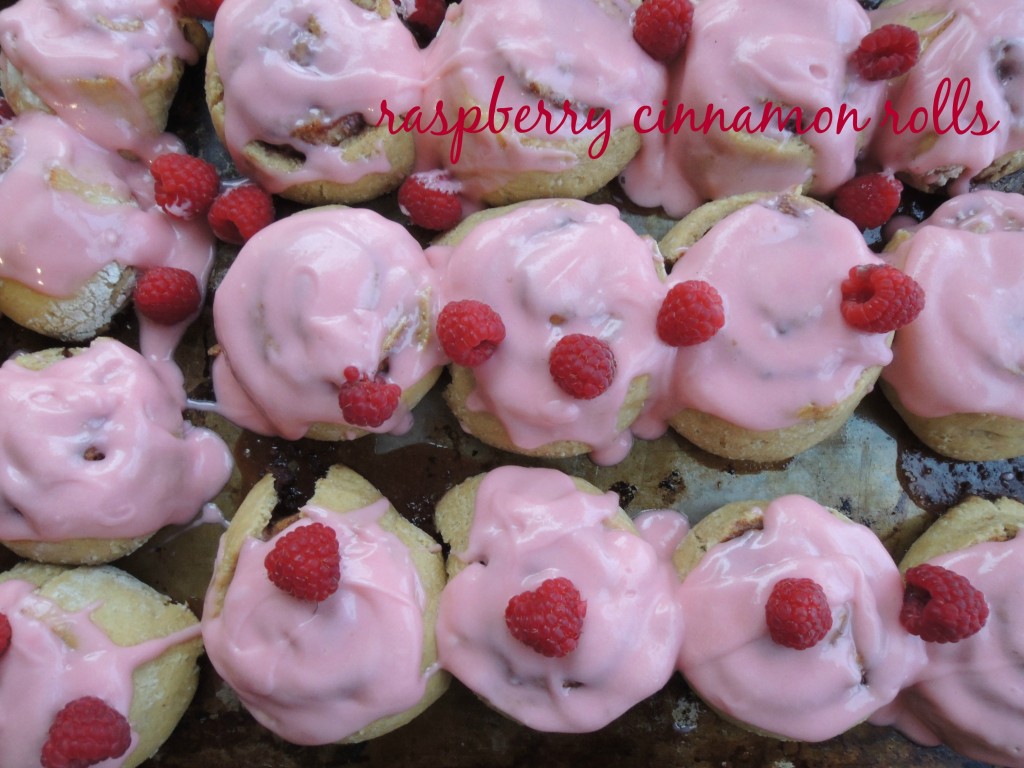 These cinnamon rolls are rich, fluffy and have less than half the butter of regular cinnamon rolls!  Using mashed banana and Greek yogurt helps cut calories without sacrificing flavor.  These would make the perfect Christmas morning breakfast.  The whole wheat and almond flours will keep you full long after the presents have been opened.
The first year Tim and I were married, we decided to take a day off work to do the fun Christmas things we love - buy a tree, pick out presents, decorate the apartment.  The day was so nice and relaxing that we decided to repeat it every year, right down to the breakfast we ate.  The day has changed a little - we're now in a house, and it's slightly less relaxing with a toddler

but these raspberry cinnamon rolls will stay every year!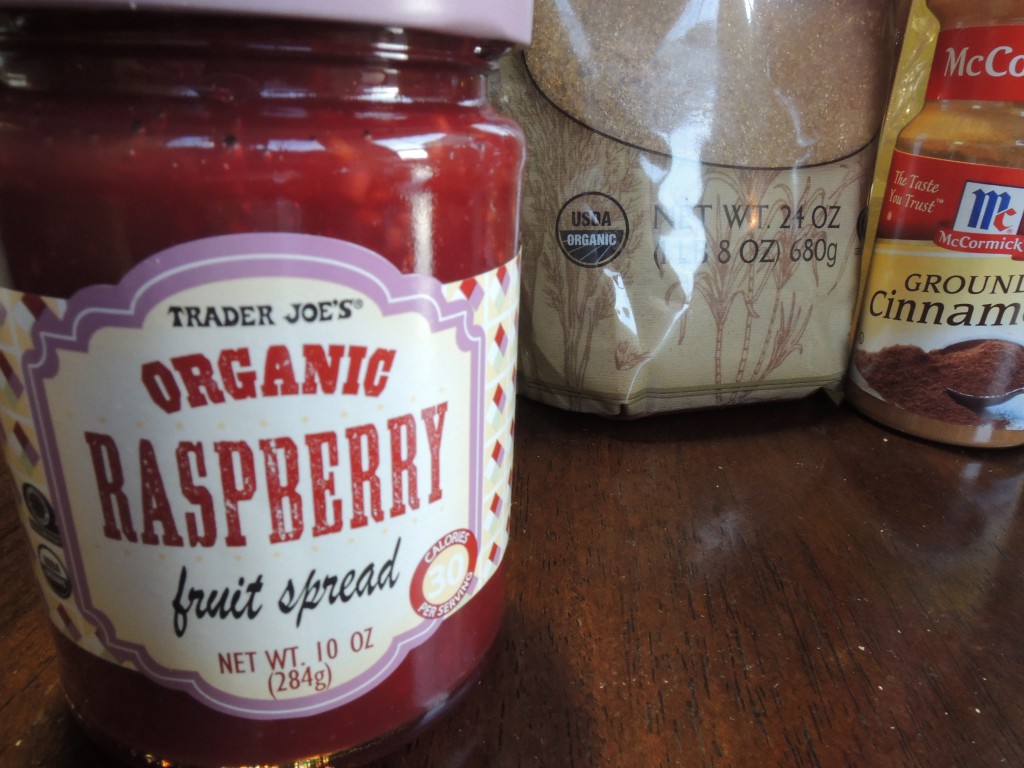 Instead of using sugary raspberry pie filling, I opted for this juice-sweetened fruit spread from Trader Joe's.  It is delicious and you won't miss the extra sugar!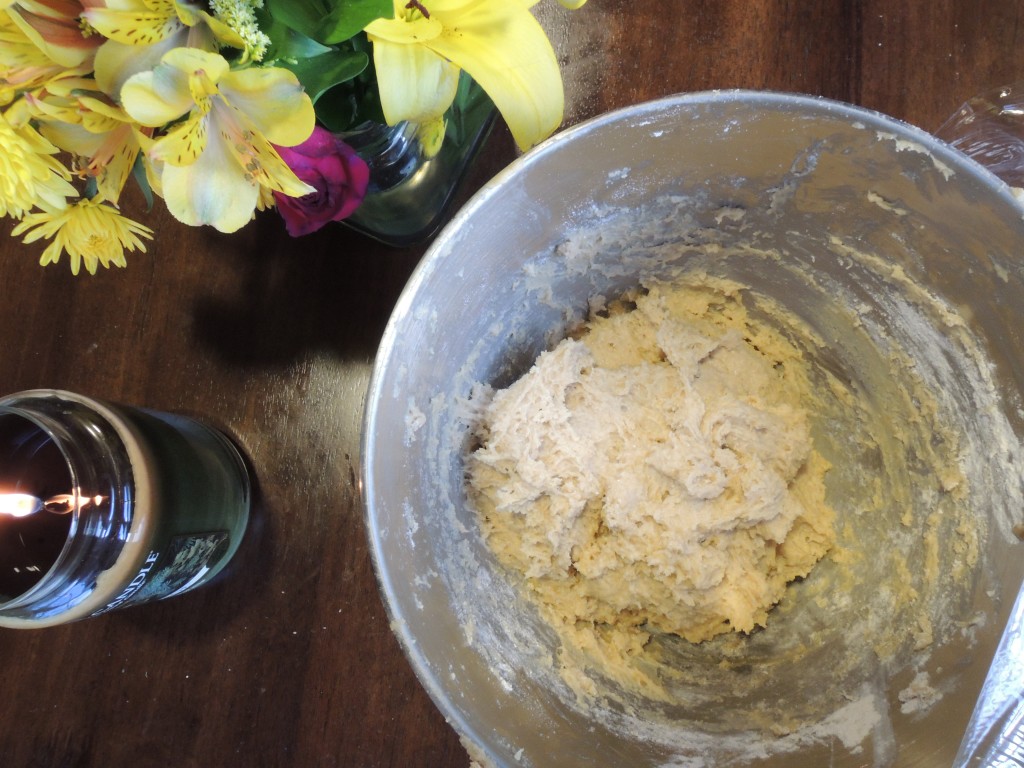 Because we are using Agave nectar instead of sugar, the dough will be pretty sticky.  Make sure to flour your rolling pin and counter space.
I decided to add a few drops of red food coloring to make the rolls look for festive.  Note: 6 drops is TOO MANY, unless you find this Pepto Bismol color appealing…
We enjoyed these rolls with an egg white scrambler with turkey bacon, Swiss cheese and spinach to add some protein.  This perfect holiday breakfast kept us full so we could devote all our energy to finding the perfect tree!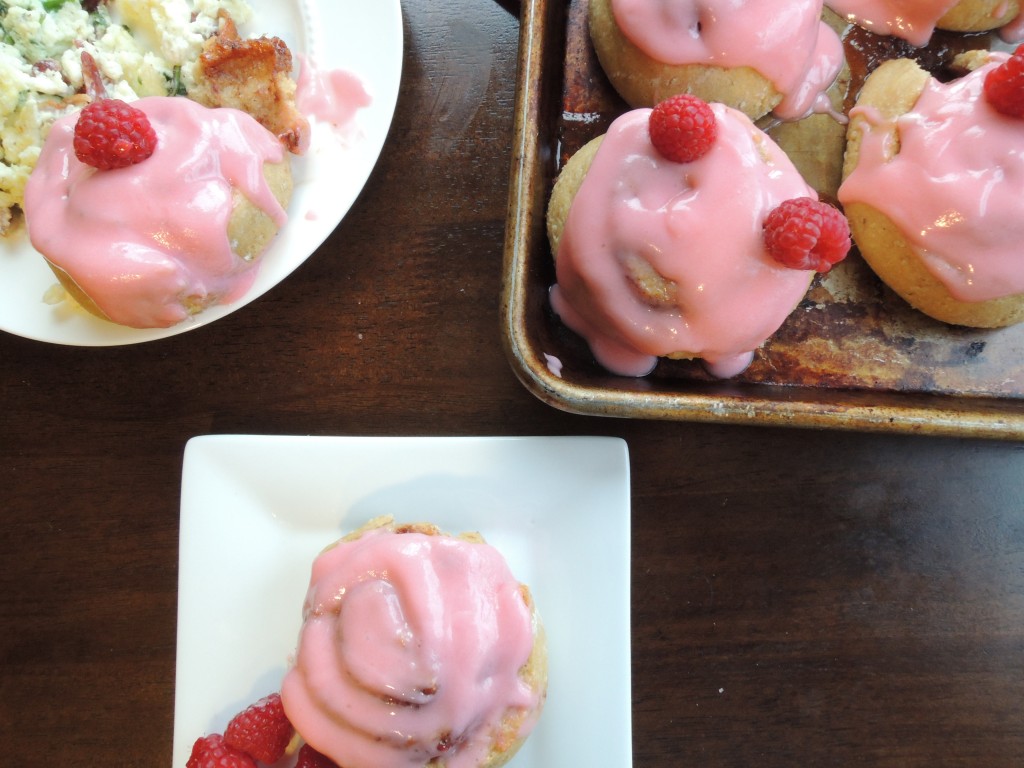 Raspberry Cinnamon Rolls
Yields 16 large rolls
Ingredients
Dough
1 (2- 1/4 tsp) package active dry yeast
1 cup warm milk
1/4 cup agave nectar
3 tbsp butter, melted
1 tsp salt
1/3 cup liquid egg whites
1 ripe banana, mashed
4 cups whole wheat pastry flour
2 cups almond flour
Filling
3/4 cup loosely packed brown sugar
2 tbsp cinnamon
2 tbsp butter, softened
1/4 cup vanilla fat-free Greek yogurt
1 cup raspberry fruit spread
Frosting
1/4 cup butter, softened
1/4 cup vanilla fat-free Greek yogurt
1 1/2 cups powdered sugar
2 oz reduced fat cream cheese
1/2 tsp vanilla extract
1/8 tsp salt
Preparation
Dissolve the yeast in warm milk in a large mixing bowl.
Add the agave, butter, salt, egg whites and banana and mix together. Slowly add the flour and knead into a ball by hand.
Put in a bowl, cover and let rise in a warm place for 1 hour or until the dough has doubled in size.
Roll the dough out on a lightly floured surface. Roll the dough into a large rectangle, approximately 21 x 16 inches, about 1/4 inch thick.
For the filling, combine the brown sugar and cinnamon.  Spread the softened butter over the dough, then spread the yogurt, then the raspberry spread.  Sprinkle the cinnamon mixture evenly over the dough.
Working from the bottom (on the 21 inch side) roll the dough to the top edge.  Cut the rolled dough about 1 1/2 in thick and place on a greased baking pan.  Let the rolls rise again until doubled in size, about 30 minutes.
Bake for 15 minutes at 400 degrees F, or until slightly browned on top.
While the rolls are baking, combine all frosting ingredients and beat with an electric mixer until fluffy.  If desired, as a few drops of red food coloring.
When the rolls come out of the oven, coat with frosting and enjoy!