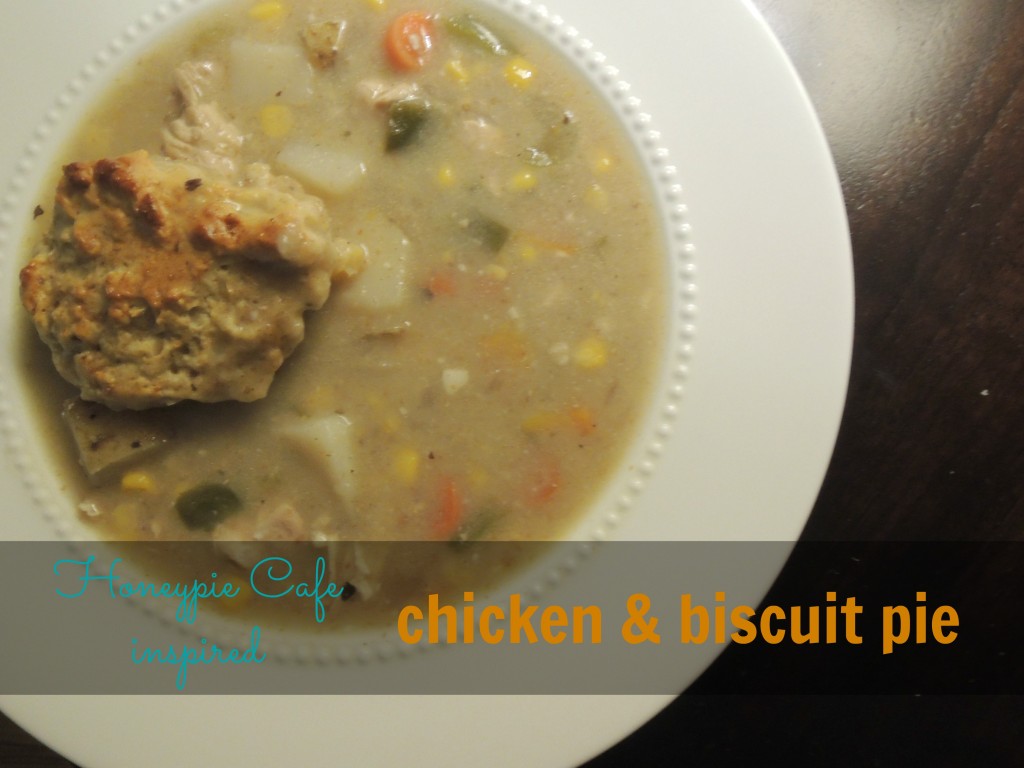 With weather like this, I am craving comfort food, and I when I think of comfort food, I think of Honeypie Café in Milwaukee.  They of course have amazing pie, but if you go, don't skip dinner!  They use simple, local ingredients to create amazing dishes.  One of my favorites is the Chicken and Biscuit Pie.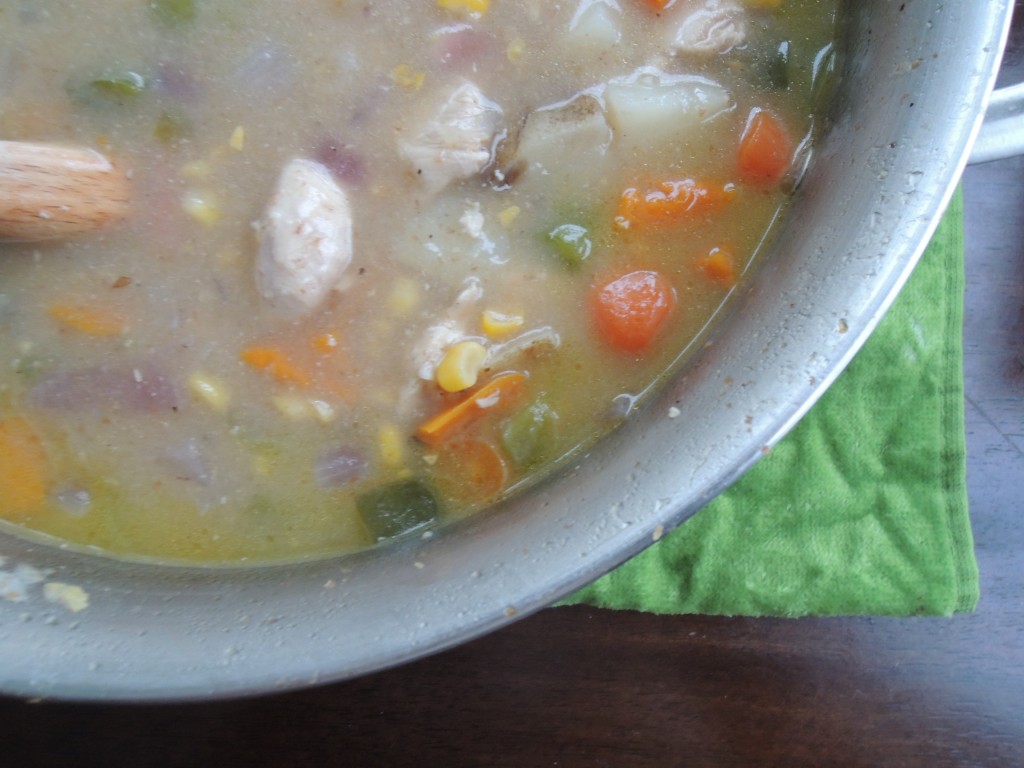 It is a rich, comforting chicken stew covered with a homemade biscuit.  To lighten it up, we'll use corn starch, water and Greek yogurt instead of heavy cream.  This dish is actually mostly made up of vegetables, but still feels like a hearty dinner.
This was the perfect dinner after a fun winter day.  I figured we should get out while the temp is still above zero, so I started the weekend at Core Essence Yoga for their Yoga Rave last night.  It was so fun, complete with a DJ and glow sticks!  I will definitely be back next year.  This morning we headed to the Mitchell Park Domes for the Winter Farmers Market.  The farmers market goes from November to April and includes free admission to the domes.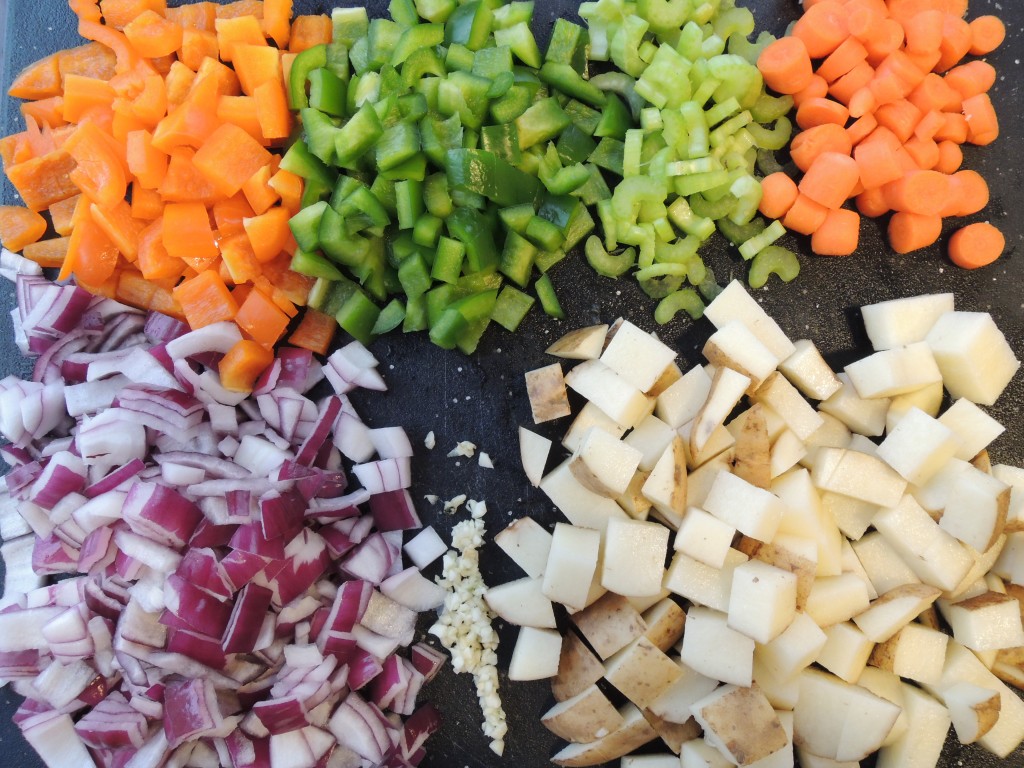 Hope you're having a great weekend!  Stay warm!
Chicken and Biscuit Pie
Inspired by Honey Pie Cafe
Yields 12 servings
Ingredients
2 tbsp. cornstarch
1/2 cup cold water
2 tbsp. extra virgin olive oil
1 1/2 lb diced chicken breast
1 medium onion, chopped
1 carrot, diced
1 green bell pepper, chopped
1 orange bell pepper, chopped
2 ribs celery, diced
1 bulb garlic, minced
2 Idaho potatoes, chopped
2 cups fresh corn
1 tbsp. dried bay leaves
3 tbsp. unsalted butter
2 tbsp. butter substitute, like Earth Balance organic buttery spread (or 2 additional tbsp. butter)
1/3 cup whole wheat flour
1 quart chicken stock
1 cup plain nonfat Greek yogurt
Biscuit mix of choice (I used Trader Joe's Multigrain Baking & Pancake Mix)
2 tbsp. liquid egg whites
Preparation
In a small bowl, whisk together corn starch and cold water and set aside.
Heat oil in a large stockpot and cook the chicken for about 4-5 minutes.  Add the onion, carrot, peppers, celery, garlic, potatoes and corn and cook for an additional 5 minutes.
Add the bay leaves, butter, butter substitute and flour.  Next add the stock and corn starch mixture and stir to combine.  Bring to a boil, reduce heat and simmer covered for 1 hour.
Remove from heat and mix in the Greek yogurt.  Pour stew into a greased 9×13 in baking dish.
Mix the biscuit dough and drop 12 heaping tablespoons over the stew.  Brush the biscuits with egg whites and bake at 425 degrees F for 10 minutes.  Enjoy!