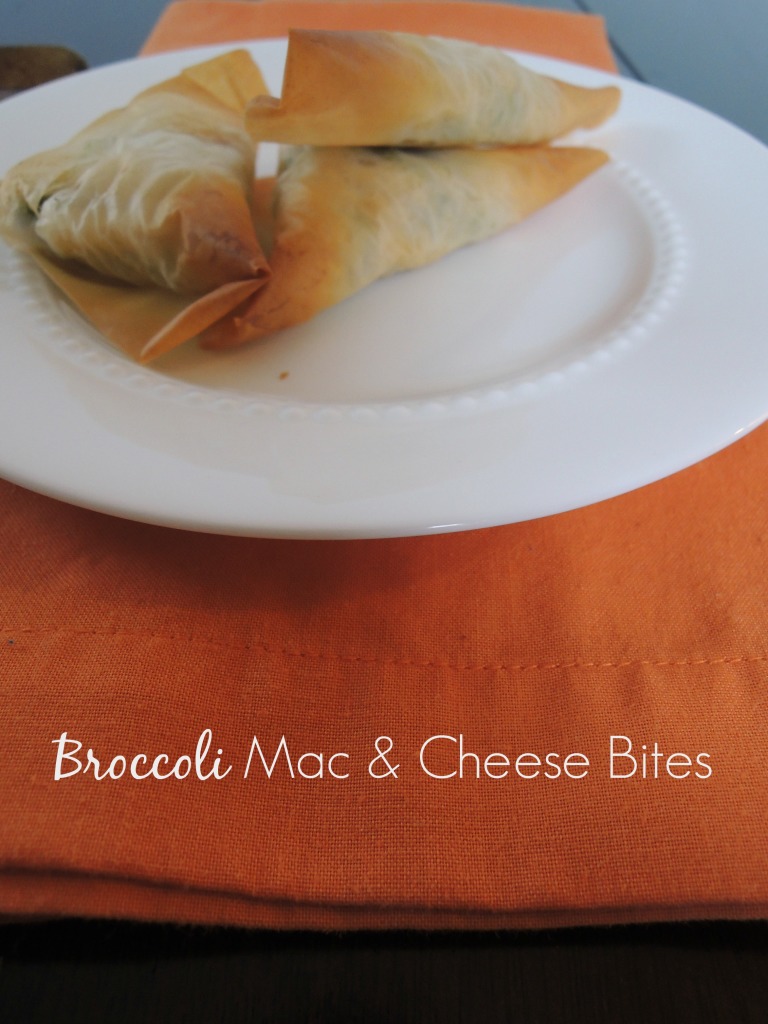 Flaky, savory, simple – these broccoli mac & cheese bites are my new favorite holiday party food. They're quick to prepare and hearty enough that both vegetarians and omnivores will love them! I'll be making these again for Christmas Eve. The day is usually pretty busy, so I need something easy. These can also be made ahead of time and frozen.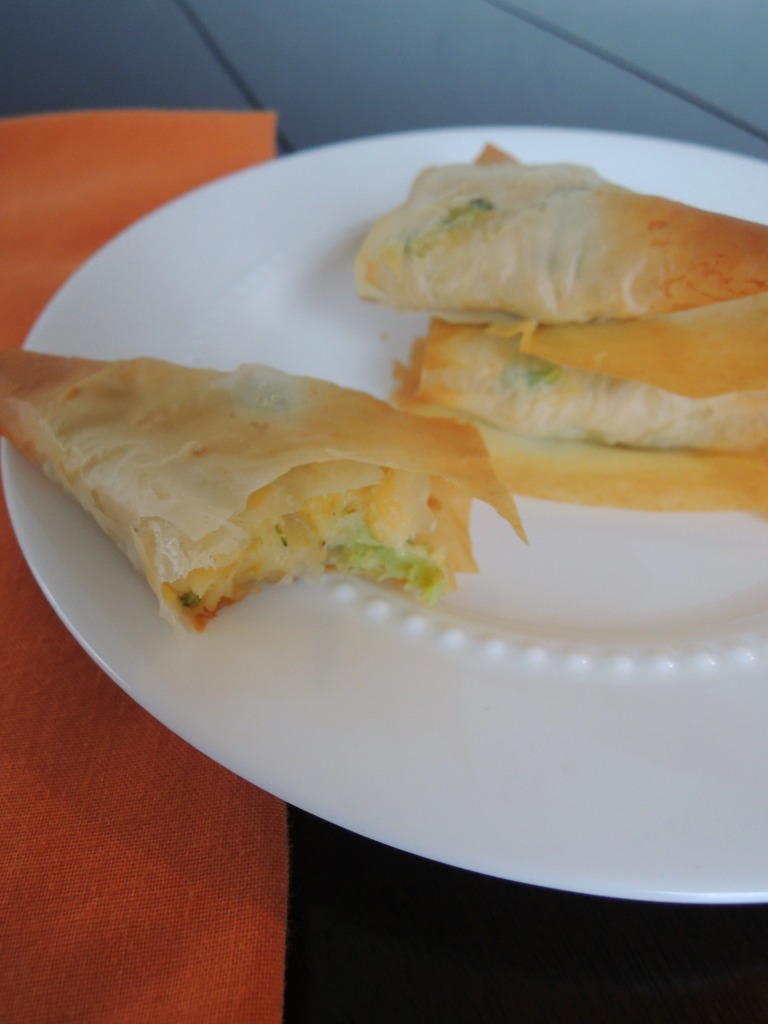 This month the Recipe Redux theme was…
Grab a Book & Cook
It's the end of the year and we'll taking a moment to reflect: ReDux has been around for 42 months! (Can you believe some of you have ReDux-ed 42 recipes?) To celebrate, we're playing a little party game this month: Grab your nearest cookbook and ReDux the recipe on page 42 or 142. We can't wait to see the books you're cooking from these days – and how you make that recipe healthier.

I wanted to use my Marshall Field's Cookbook

, because that store just meant Christmas to us growing up – the windows, the Walnut room, just the hustle and bustle of the store at Christmas time. The recipe on page 42 just wasn't inspiring me, so I went with my The Chicago Tribune Cookbook (yes, I own every Chicago-themed cookbook ever published.) Page 42 features Spicy Veal Puffs with Mustard Cream Sauce. Spicy veal meatballs are wrapped in phyllo dough then smothered in creamy mustard sauce. While I'm sure these would be delicious, I couldn't get over the amount of fat and salt that went into these. I wanted to not only lighten it up, but simplify it as well. I kept the phyllo dough, but ditched the meat and added rich, creamy mac and cheese

! These can be assembled in 10 minutes, then baked or frozen for later. Pair these with Pear Prosciutto Wraps for a beautiful and easy appetizer spread! I hope you have a wonderful week! Merry Christmas!
The sheets of phyllo dough are incredibly delicate and dry out quickly, so make sure you have everything ready to go when you take them out of the refrigerator. After laying down each sheet, spray it generously with olive oil cooking spray. Typically each sheet is brushed with melted butter, but the spray works just as well and still results in flaky, crispy bites.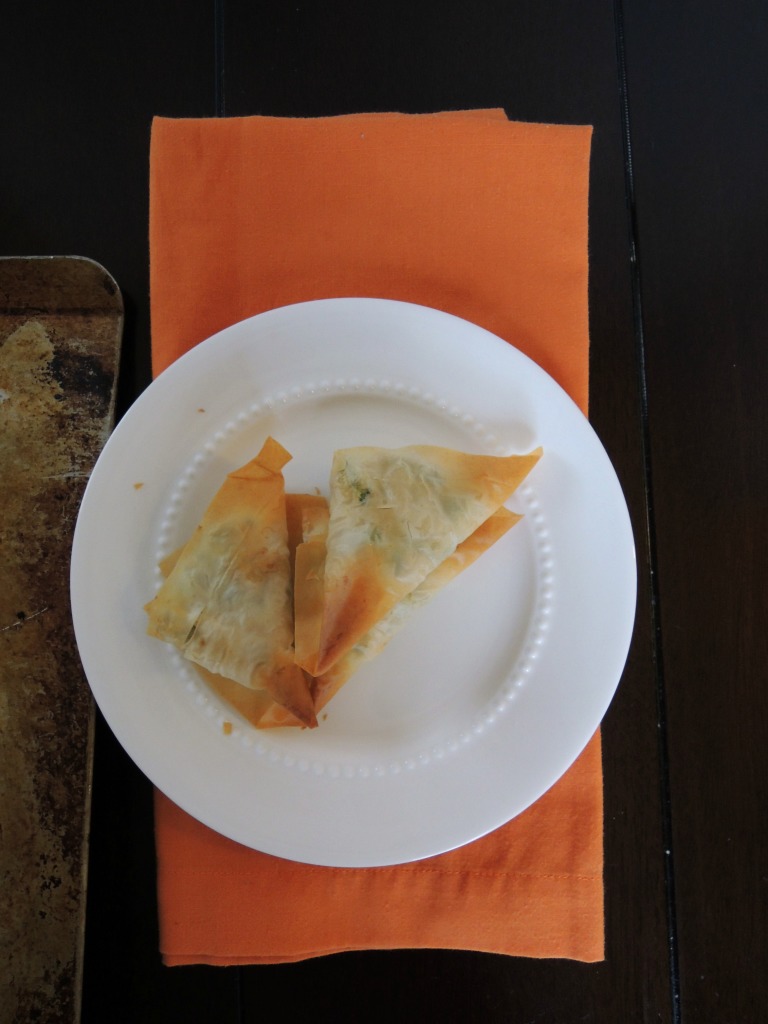 Broccoli Mac 'N Cheese Bites
2014-12-21 11:27:18
Ingredients
1 1/2 cups prepared macaroni and cheese (I love Annie's brand)
1 1/2 cups frozen chopped broccoli, thawed
2 oz. fat-free cream cheese
1/2 tsp. cumin
Salt and pepper to taste
12 sheets of phyllo dough, thawed (there are about 20 sheets per roll)
Olive oil cooking spray
Instructions
In a medium bowl, combine the macaroni & cheese, broccoli, cream cheese, cumin, salt and pepper.
Remove the phyllo dough from the refrigerator and unroll. Place 1 sheet on your work surface and spray with olive oil spray. Layer and repeat with all 12 sheets.
Cut the sheets into quarters widthwise (picture above)
Place 1 heaping tablespoon of filling about 1" from corner of each layered strip. Fold one corner of phyllo diagonally over the filling to opposite edge to form a triangle. Continue to fold triangle onto itself. Lightly spray the triangle with olive oil spray. Place triangles seam side down on ungreased cookie sheet at least 1" apart. Repeat with the remaining strips and phyllo sheets until the filling is used up. Bake for 20 to 25 minutes or until golden brown. Serve hot. Enjoy!
Adapted from The Chicago Tribune Cookbook
Adapted from The Chicago Tribune Cookbook
Diet Deep Dish http://dietdeepdish.com/